Beautiful Noise Effects WHEN THE SUN EXPLODES
Reverb / Feedback / Boost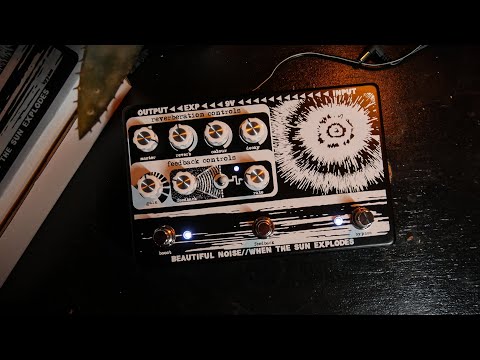 Beautiful Noise WHEN THE SUN EXLODES
Reverb / Feedback
When The Sun Explodes is the ultimate tool for creating long ambient swells of atmospheric reverberation, to stuttering, chaotic feedback oscillations overloading your amplifier.
The core reverb emulates a classic spring tank, with a variety of controls to further shape the tone and length of the signal. The feedback footswitch engages a linear rising or LFO/tremolo controlled feedback loop, which forces the wet reverb signal back into the input creating some over-the-top noise effects, with a boost footswitch instantly doubling the amount of reverberation for an instant wave of sound. The output gain, with the additional clipping options of symmetrical, asymmetrical or no clipping selects between a range of gain shapes and amplitudes.
Plug any and all instruments into this box of utter sonic dystopia, for an endlessly reverberant, fuzzed out noise experience no effects pedal has yet to reach.
Main Features:
Reverb / Feedback / Booster effects pedal
Classic spring tank reverb with linear rising or LFO/Tremolo controlled feedback loop
Perfect for creating over-the-top noise effects
Reverb: Blends in the amount of wet reverberated signal with the dry signal.
Colour: Tone control of the reverb, left for darkness/right for brightness.
Decay: Adjusts the length of the reverb trail, as well as intensifying the feedback loop at higher decay levels
Gain: Acts as a distortion control on the output of the pedal, anywhere up to half way acts as a gritty boost to an overdrive, everything above goes into fuzz territory, when the 'reverb' knob is fully counter clockwise the distortion can be used entirely on it's own.
Feedback: Controls the intensity of the feedback loop.
Toggle Switch: Switches between standard feedback and a tremolo controlled feedback modulator.
Rate: Controls the speed of the LFO that modulates the feedback loop tremolo, from slow pulses to a stuttering chaos.
Boost Footswitch – Doubles the amplitude of the reverberated signal, creating an instant wall of sound
Feedback momentary Footswitch –  When held down the feedback loop is engaged, releasing turns it off
Expression pedal input, which modulates the amplitude of the reverb signal. [10k-50k expression pedal]
Clipping switch for selecting between:

Symmetrical: Even soft-clipping, which gets compressed and fuzzy at high gain levels.
OFF: Diode clipping is removed, the distortion heard is the op-amps overloading far beyond its limits. (Warning: will produce buzzing, noise, and potentially harmful amp exploding levels of gain).
Asymmetrical: Uneven hard-clipping, harsh and nasally, a mixture between symmetrical and no clipping.

Dry Switch – Cuts the dry signal completely out of the mix for a 100% wet reverberated output, which is best used in conjunction with the EXP for ambient volume swells.
Handmade in Newcastle, Australia
Powered by 9V DC power supply
(standard 2.1mm, – center, 76 mA current draw)
Related Videos and Articles