Stand-alone PSU with 7 DC outlets
Stock coming soon - pre-order available
Stock coming soon - pre-order available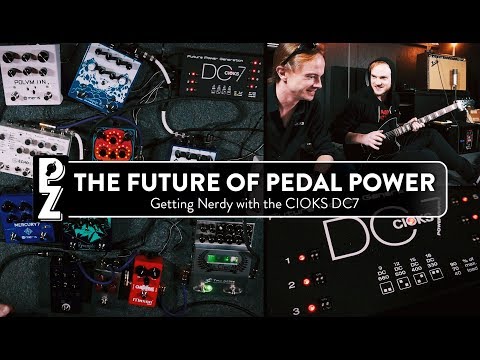 7 DC outlets Future Power Supply Generation – CEE 7/7 IEC Cable
Future Power Generation
The CIOKS DC7 is the thinnest, flexible and most unique power supply on the market today from Danish power supply specialists CIOKS. Perfect for powering a plethora of today's hungry effects pedals with clean, filtered power, it allows whatever you have on your pedalboard to perform at its best. Thanks to the pure 2-stage switch-mode technology inside, the ground-breaking DC7 also has a low one-inch (25.4mm) profile and weighs just 500 grams.
The profile may be low but the power ratings are certainly not – DC7 puts out a maximum of 48 W from its 9 outlets and allows you to connect multiple high-current modern digital effects, plus provides clean and noiseless power for the fussiest of low powered analog pedals.
Featuring 7 isolated DC-outlets for effect pedals each with four selectable voltages (9, 12, 15 and 18 V), all of DC7's DC outlets can put out 6 W, which at 9 V corresponds to a huge 660 mA of current. Additionally, DC7 also has a handy 5 V USB outlet and an auxiliary 24 V outlet. This allows you to further expand your power connectivity and outlet count with a CIOKS 4, as well as with other compatible 24 V DC power supplies, for even more flexibility.
If you are looking for a super powerful power supply setup to power a large pedalboard, the combination of DC7 and CIOKS 4 will definitely be an outstanding solution, giving you 11 isolated outlets in total with huge current ability on tap, plus a 5V USB outlet to charge your smartphone or tablet, all in blissful silence to let your effects pedals shine their finest and without the weight and size
of any other pedal power supply sold today.
Combined with the large set of Flex cables included, CIOKS are confident in that this is the most flexible, noise-free solution on the market for powering pedalboards with a multitude of different pedals.
Let the future begin!
Main Features:
• Ground-breaking low profile and weight
• 2-stage switch-mode power supply topology
• Ultra-low noise achieved by multi-stage filtering
• 7 isolated DC-outlets, each providing up to 660 mA (at 9 V)
• Independently selectable DC voltage on each outlet (9, 12, 15 or 18 V)
• 5 V USB Output (max 1A) – perfect for powering your tablet or phone
• 24V DC auxiliary outlet (2A) – for expansion with CIOKS 4 etc. for additional isolated outputs
• Individual power limit LEDs on each output, total load meter and global overload status LEDs
• Mounting hardware for Pedaltrain and Templeaudio boards included
• Compatible with CIOKS GRIP – for drill-free mounting on Pedaltrain boards
• 12x Flex cables included
• Universal mains input voltage 90 to 265V AC.
• Total maximum output power 48W
• Designed in Denmark, assembled in Poland
• 5-year worldwide warranty
Specifications:
Power Input: 90-265 V AC (IEC)
DC Outlet 1-7: 9 V DC / 660 mA or
12 V DC / 500 mA or
15 V DC / 400 mA or
18 V DC / 330 mA each
5 V USB Output (max 1 A)
5 V USB Output (max 1A)
24V DC auxiliary outlet (2 A)
Output power: max. 48 W in total
Flex cables
A total of twelve Flex cables are included:
• Standard Flex type 1 – black with 5,5/2,1mm centre negative DC plug x7
• Standard Flex type 2 – red with 5,5/2,1mm centre positive DC plug x1
• Standard Flex type 4 – green with 5,5/2,5mm centre positive DC plug x1
• Standard Flex type 5 – black with tip positive 3,5mm Jack plug x1
• Split Flex type 1 – powers two pedals of a single outlet x1
• 3-way Daisy chain Flex type 1 – powers three pedals of a single outlet x1
Additional information
| | |
| --- | --- |
| Weight | 1,5 kg |
| Dimensions | 18,8 × 5,8 × 23,6 cm |
Related Videos and Articles