Power Supply Bundle containing DC7 and CIOKS 8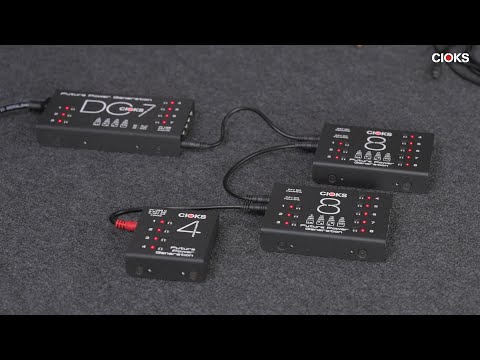 CIOKS Superpower Bundle
Power Supply Bundle containing DC7 and CIOKS 8
Get your Super Power here!
When you are building the ultimate pedalboard, you need a flexible, powerful and reliable power supply. With the CIOKS Superpower Bundle, you'll get just what the doctor ordered! This stellar combo combines the award winning CIOKS DC7 with the CIOKS 8 Expander, to provide a total of fifteen isolated outlets, each with four switchable voltages, plus a USB outlet for your smartphone or tablet.
In order to give you total flexibility when using both DC7 and CIOKS 8 within your setup, the 'Superpower Bundle' also includes two DC Link cables in different lengths. This allows you to connect and mount both units on the same board or the ability to separate them. For example, the DC7 on your main pedalboard and the CIOKS 8 Expander on a separate companion board.
The CIOKS 'Superpower Bundle' allows you to expand the number of available outlets even more for your pedals – by either purchasing a CIOKS 4 Expander Kit or another CIOKS 8 Expander and connecting it to the 24V DC link outlet on the included CIOKS 8 – making it as future-proof as possible.
Both DC7 and CIOKS 8 are compatible with the separately available CIOKS GRIP, which allows for super easy drill-free mounting underneath Pedaltrain boards.
Main Features:
Future Power Generation Bundle containing CIOKS DC7 and CIOKS 8 multi-outlet power supply units
Profile of both units only 2.5 cm
Ultra-low noise achieved by multistage filtering
A total of 15 outlets with up to 660 mA (at 9V DC) on each
7 isolated DC-outlets 6 W each on CIOKS DC7
8 isolated DC-outlets, 6 W each on CIOKS 8 Expander
4 selectable voltages on each outlet

9V DC at 660 mA
12V DC at 500 mA
15V DC at 400 mA
18V DC at 330 mA

42 Watts total maximum output power from all 15 DC outlets combined
Can be expanded by connecting a either a separately sold CIOKS 4 Expander Kit or another CIOKS 8 Expander
5V USB-Output for max. 1 A
24V DC auxiliary outlet with max. 2A
Three LED power meter showing the total load of both power supplies • Mounting hardware for Pedaltrain and Templeaudio boards and hex-key included
Compatible with CIOKS GRIP for drill-free mounting on Pedaltrain boards (sold separately)
24 Flex cables included:

2 x Flex 1015 – black with 5.5/2.1 mm centre negative DC plug, 15 cm
6 x Flex 1030 – black with 5.5/2.1 mm centre negative DC plug, 30 cm
4 x Flex 1050 – black with 5.5/2.1 mm centre negative DC plug, 50 cm
2 x Flex 1080 – black with 5.5/2.1 mm centre negative DC plug, 80 cm
2 x Flex 2050 – red with 5.5/2.1 mm centre positive DC plug, 50 cm
2 x 4050 – green with 5.5/2.5 mm centre positive DC plug, 50 cm
2 x Flex 5050 – black with tip positive 3.5 mm Jack plug, 50 cm
2 x Flex 1035 – splitter, black with two 5.5/2.1 mm centre negative DC plugs, 30 and 50 cm
2 x Flex 1533 – 3-way daisy chain, black with three 5.5/2.1 mm centre negative DC, plugs, 30 + 30 + 50 cm
plugs

2 DC Link cables included – for connecting CIOKS 8 to the DC7's 24V DC aux

1 x L2415 – black with EJAI plug at each end, 15 cm
1 x L2480 – black with EJAI plug at each end, 80 cm

Designed in Denmark, assembled in Europe
Additional information
| | |
| --- | --- |
| Power Plug | Schuko Plug (CEE 7/7) |
Related Videos and Articles