Death By Audio Evil Filter
Psycho HP/BP/LP Filter and Fuzz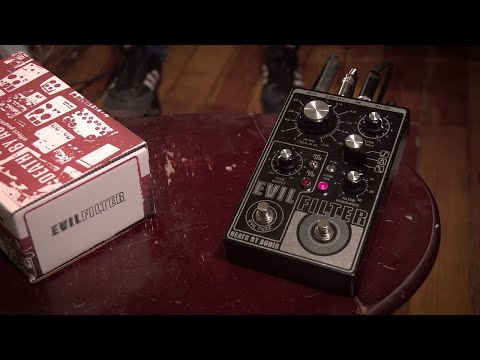 Death By Audio Evil Filter
Psycho HP/BP/LP Filter with switchable Fuzz
Psycho HP/BP/LP filter with a sleek, laser etched enclosure. Can be pushed past the limit into octaves up, down, and folding envelopes. Its medical grade IC chip creates a hyper precise filter that sounds like no other. The Evil Fuzz takes signals into a much darker dimension, offering an inverted compression toggle to push sounds even further into the depths. Using the CV/Expression input, you can control the filter cutoff frequency with an expression pedal or synthesizer.
Main Features:
Filter Freq: Cutoff frequency of the filter. Numbers shown are in Hz.
Filter Output: Volume of the filter section of the pedal.
Filter Selector: Selects between the different filter types – Low Pass, Band Pass, and High Pass.
Filter Resonance: Sets the resonance of the filter in conjunction with the Resonance Switch. WARNING: Will self oscillate at high levels!
Resonance Switch: Sets the range of the Filter Resonance knob between Normal and High.
Fuzz Output: Volume of the fuzz section of the pedal.
Fuzz Type Switch: Choose between two different fuzzes – lower for a cleaner, more driving fuzz, higher for a blasted out, blooming, insane fuzz.
EXP/CV Input: Plug in CV control (~0-3.0v) or an expression pedal for external control of the Filter Freq knob. The Filter Freq knob sets the range for the EXP/CV input.
Power: 9V (runs on standard 2.1mm negative center 9V adapter or included 9V battery).
Current Draw: 21 mA.
Additional information
| | |
| --- | --- |
| Weight | 0,8 kg |
| Dimensions | 22 × 13,5 × 8,2 cm |
Related Videos and Articles