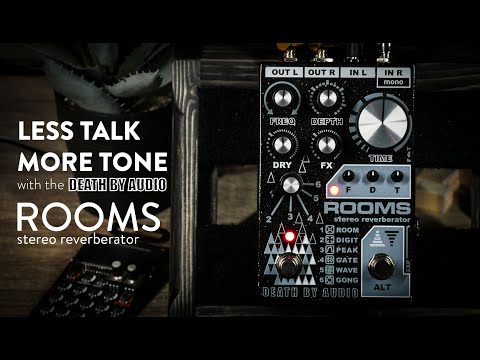 Death By Audio Rooms
Stereo, multi-function digital reverb
A stereo, multi-function digital reverb, Rooms is capable of searing volume, gated walls of sound and long, trailing reverberant ambiances with an intuitive array of controls, all designed with real-time mood-bending in mind. It's the finely tuned and infinitely tweakable result of Oliver Ackermann's lifelong obsession with reverb effects units.
Rooms' six reverb algorithms (Room, Digit, Peak, Wave, Gate and Gong) have been meticulously programmed in-house to deliver an endless universe of sounds. To aid in their exploration, the pedal features an Alt footswitch which engages a secondary set of controls. This allows the user to seamlessly shift between settings and also activates an external expression pedal (optional) for hands-free space-and-time travel of a cosmic auditory nature.
An output mixer designed in collaboration with Electronic Audio Experiments provides pristine, studio-quality control of the wet and dry signals from -inf to 20x gain, making Rooms sound right at home on pedalboards, at front-of-house, and in the recording studio, and with gain to spare. Rooms' creative I/O switching and dual mono dry signal lines allows for a wealth of possible mono and stereo configurations, making it easy to route signals for parallel processing or stereo amplifier setups.
Main Features:
Six unique, meticulously programmed stereo reverb algorithms

Room – classic reverb that simulates many different rooms
Digit – filter matrix verb capable of creating otherworldly resonances and fractured repeats
Peak – a super intense bandpass filter combined with an ambient reverb
Wave – gated reverb. Short reverb times create a classic gate effect, long reverb times create a controllable freeze effect
Gate – creates a pitch vibrato effect. Lowering TIME will blend out the reverb signal, allowing sweeps from chorus/vibrato to long modulated reverbs
Gong – ethereal, crushed reverb sounds guaranteed to make you a star in the upcoming remake of Dune and live out your sci-fi fantasies of space travel and galactic domination. Control the spice, control the universe.

Alt footswitch switches between two sets of controls and engages expression pedal input
Clever I/O switching – allows for a variety of routing possibilities for parallel processing/ stereo amplifier setups
Hi-fidelity output mixer designed in collaboration with Electronic Audio Experiments
Expression input – almost any regular expression pedal adds additional control over the F or T knobs
Powered by regular 9 V DC PSU
(centre -, 2.1 mm, ~80 mA current draw)
Additional information
| | |
| --- | --- |
| Weight | 0,62 kg |
| Dimensions | 16,8 × 13,5 × 8,6 cm |
Related Videos and Articles