Stereo Delay / Pitch Shifter / Reverb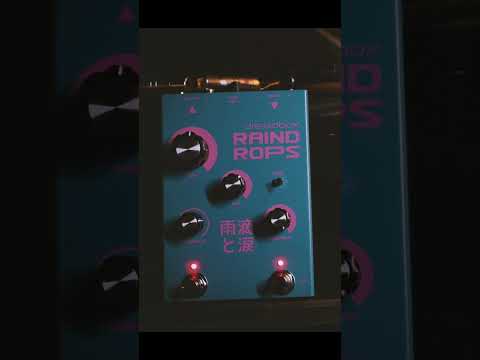 Dreadbox RAINDROPS
Stereo Delay / Pitch Shifter / Reverb
The Dreadbox RAINDROPS is a Hybrid Delay/Pitch Shifter/Reverb pedal that takes the concept of short echoes to a different level. It is equipped with multiple delay stages and different chips and you can choose between 3 different play modes, where in each one you can have a whole new experience and alternative soundscapes. You can achieve from simple short echos, to long, dirty and lo-fi delays and from simple pitch shifting bursts to extensively lasting reverbs.
RAINDROPS offers Delay times from 50ms up to 1 sec with tap tempo, while above 700ms it starts to become lo-fi and some dirt is added to the repeats.
Its three distinct alrorithms make it useable as a standard delay, Modulated Delay, Shimmering Delay, Delay with Reverb on the repeats, simple lush Reverb, pitch shifted Delay or plain Noise Machine.
The true stereo in and outs and the preset memory for each algorithm make it a versatile companion for creating subtle ambience to vast soundscapes.
Main Features:
Stereo Delay, Pitch Shifter, Reverb Effects Pedal
Hybrid circuit with multiple delay stages and ICs
Delay times from 50ms up to 1 sec with tap tempo
3 selectable algorithms with preset memory for each

Modulated Delay
Pitch-Shifted Delay
Large Lush Reverb

True stereo inputs and outputs – suitable for audio, line or instrument level input up to 2Vpp level
Analog dry signal path with Hybrid Delay and Digital Reverb paths
Tap Tempo with multiple division settings (accessible via secondary knob control functions)
Switchable Delay Tails
Secondary control functions accessible by holding down the ON Footswitch
Silent CMOS Buffered Bypass Switching
Powered by opt. 9V DC power adapter
(2.1 mm, center -, 220 mA current draw)
Additional information
| | |
| --- | --- |
| Weight | 0,6 kg |
| Dimensions | 17 × 11 × 6,7 cm |
Related Videos and Articles