EarthQuaker Devices Hummingbird V4
Repeat Percussions Tremolo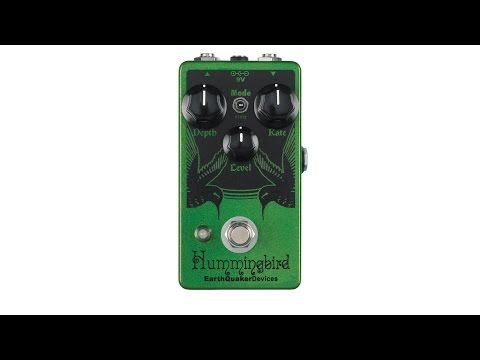 EarthQuaker Devices Hummingbird
V4
Repeat Percussions / Tremolo
Welcome to the new Humminbird Repeat Percussion tremolo! The Hummingbird V4 is a choppy, sawtooth tremolo modeled on the vintage repeat percussion unit and similar to those found in old Valco and Vox amplifiers.
Main Features:
Repeat percussions / Tremolo – Vintage choppy, sawtooth tremolo tones
Dark, dreamy, murky delay sounds reminiscent of vintage oil-can and tape units
Variable waveshape LFO – adjustable from triangle through square wave
New flexi-switch – allows for latch and momentary operation
True bypass – Silent soft-touch switching
All-analog dry signal path
Top-mounted jacks – for effortless pedalboard implementation
The Hummingbird V4 is capable of producing everything from classic 50s style shimmering tremolo to a synthy, delay-like chop that turns your signal into a burst of short pings and on through to near ring modulation speeds.
Simply choosing between modes 1 (slow), 2 (mid-tempo) or 3 (fast) and adjusting the rate and depth controls will unlock a whole new world of amplitude modulation at your feet.
The Rate is also expression pedal accessible to allow instant changes on the fly. Using an expression pedal opens up the possibility of true random amplitude modulation! In addition to the modulation, the Hummingbird has plenty of clean gain on-tap allowing you to either boost or cut the signal using the level control. If the Depth is turned to zero, the Hummingbird will become a JFET clean boost!
To make things even more fun and expressive, the new Flexi-Switch allows you to use the pedal in momentary mode for sudden accentuations of parts with slow subtle airwaves or bursts of aggressive and fast choppy synth-like trem tones. For standard latching operation, tap the footswitch once to activate the effect and then tap again to bypass. For momentary operation, hold the footswitch down for as long as you'd like to use the effect. Once you release the switch the effect will be bypassed.
The Hummingbird V4 is all analog, true bypass and handmade one at a time on a gilded cloud in Akron, Ohio.
Additional information
| | |
| --- | --- |
| Weight | 0,39 kg |
| Dimensions | 14,6 × 8,25 × 8,25 cm |
Related Videos and Articles