EarthQuaker Devices Night Wire V2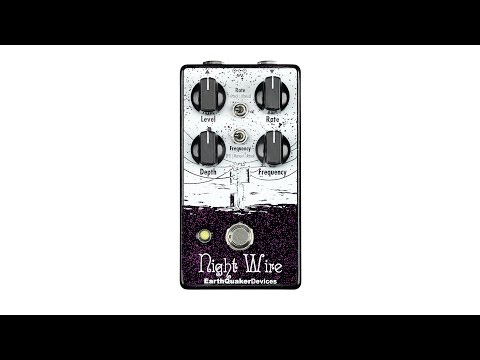 EarthQuaker Devices Night Wire V2
Harmonic Tremolo
The Night Wire V2 is a feature-rich harmonic tremolo. What is harmonic tremolo? In short, the signal is split into high pass and low pass filters, then modulated with an LFO that is split 180 degrees. In non-techy terms this means that Night Wire lands in a weird but wonderful place somewhere between a Tremolo, Vibe, Wah and a Phaser, ending up with one of the most magical and mesmerizing sounds a human being will ever hear. So plug in and let yourself be seduced by the exhilaratingly expressive tones of the Night Wire!
Main Features:
Feature-rich Harmonic Tremolo
Attack mode – adjusts rate and depth of the tremolo based on your attack
LFO mode – continously sweeps the filter for phaser-like tones
New V2 flexi-switch – allows for latch and momentary operation
True bypass – silent soft-touch switching
Improved circuit design – for lower noise and better performance
Top-mounted jacks – for effortless pedalboard implementation
The Night Wire V2 takes the traditional harmonic tremolo a few steps further by allowing the center point of both filters to be adjusted for different tones. The filter frequency has three modes: Manual, LFO and Attack. In Manual mode, the center point can be set to a fixed position with the frequency control.
In LFO mode, the filters are continuously swept and the frequency control adjusts the speed. In Attack mode, the filters are dynamically swept according to pick attack and the frequency control acts as a range control, much like a standard envelope filter. The tremolo section has two modes, Manual and Attack. In Manual mode, the speed of the tremolo is governed by where the rate control is set. In Attack mode the speed is controlled by pick attack and the rate controls the sensitivity; the harder you pick, the faster the rate and vice-versa.
The tremolo can be subtle and shimmery or full-on throbbing depending on where the depth control is set. With the depth set to zero, the Night Wire V2 will act like a fixed filter, phase shifter or envelope-controlled filter depending on which mode the filter frequency is in. It also features a cut/boost volume control to get your levels just right.
Night Wire V2 has been equipped with our new Flexi-Switch, which allows you to switch between operating the pedal in classic latch mode or in the new momentary mode for more creativity than ever. The V2 pedal has also received a circuit update, which greatly improves the signal-to-noise ratio and has given the pedal even more output and tonal versatility than the earlier version.
Each Night Wire V2 is hand made one at a time in the moonlit village of Akron, Ohio.
Additional information
| | |
| --- | --- |
| Weight | 0,39 kg |
| Dimensions | 14,6 × 8,25 × 8,25 cm |
Related Videos and Articles