EarthQuaker Devices Organizer V2
Polyphonic Organ Emulator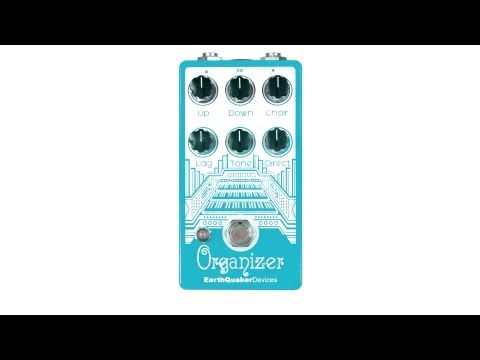 EarthQuaker Devices Polyphonic Organ Emulator
The Vital Organ
The Organizer V2 is a polyphonic organ emulator designed to mimic the organ tones of yesteryear crossed with the highly unique "Guitorgan". It has a warm and very analog feel with a hint of Leslie warble that is unlike other modern octave shifters.
Polyphonic organ emulator – tracks chords and single notes flawlessly
"Choir" control acts as octave regeneration control for two octaves up/down
Improved circuitry for better performance and lower noise
True bypass – Silent soft-touch switching
Analog dry-through
Top-mounted jacks – for effortless pedalboard implementation
Whether you're going for a full-on Ray Manzarek psychedelic solo vibe, simple supporting bass notes or a crystalline ambient shimmer, the Organizer and its intuitive control set is sure to deliver every time. Use the Lag control to introduce more space between your dry signal and the effected signal for cool polyrhythmic octave effects, or use the unique Choir control to introduce either a shimmering two octaves up signal, a bone-shaking two octaves down signal or both at the same time for out of this world organ tones.
The Organizer V2 tracks chords as well as single notes perfectly all over the neck on both guitar and bass. Not only can the Organizer V2 be used on strings, it has been widely used on everything from vocals and synths to horns and drums… If it makes sound, the Organizer V2 can handle it!
The Organizer V2 has a fully analog dry signal path, fully digital wet path, new electronic relay based true-bypass switching and anew upgraded circuitry for even better performance and lower noise. It is powered by a standard 9-volt DC power supply with a 2.1mm negative center barrel and has a current draw of 65ma. Each Organizer V2 is built by hand in Akron, Ohio, USA.
Additional information
| | |
| --- | --- |
| Weight | 0,4 kg |
| Dimensions | 14,6 × 8,25 × 8,25 cm |
Related Videos and Articles