EarthQuaker Devices Tone Job V2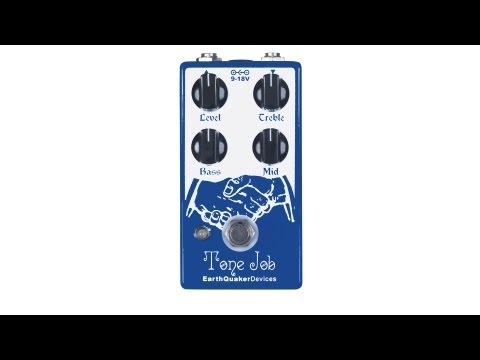 EarthQuaker Devices Tone Job V2
EQ & Boost
This compact Boost & EQ device is based around the tone-shaping options available in old audiophile-grade stereo preamps, making it a great addition to your pedalboard, no matter what instrument you play.
So what does that mean, exactly? It means that you'll hear full frequency response from your Tone Job everywhere you plug it in – guitar, bass, drum machine, synthesizers, steel drums, harpsichord, kazoo, car stereo, or wherever!
EarthQuaker Devices Main Features:
Powerful EQ and full range Boost pedal
Active 3-Band EQ with up to 20 dB boost or cut
Up to 5 times the original input level
Runs at 9-18 Volts for increased headroom
True bypass
Silent soft-touch switching
Powered by regular 9-18 V DC PSU
(centre -, 2,1 mm, 21 mA current draw)
The Tone Job has active EQ controls for Bass, Mid and Treble, with up to 20 dB of cut or boost, which is handy for pairing up with other pedals in your chain to breathe new life into old dirt.
Unlike boring old graphic EQs, the Tone Job's EQ controls are interactive, so you can experiment with different settings to alter the response and overall feel of the device, getting your tone out of the lunchroom and back on the clock.
Place the Tone Job at the beginning of your chain to alter the overall character of your guitar, or use it at the end to boost output at the end of a long cable run and fine-tune your tone. The Level control on the Tone Job can boost your signal up to 5x the original input level, so you'll always be heard.
Additional information
| | |
| --- | --- |
| Weight | 0,37 kg |
| Dimensions | 14,6 × 8,25 × 8,25 cm |
Related Videos and Articles