Hamstead Soundworks Signature MKII
Waveshaping Analogue Tremolo Pedal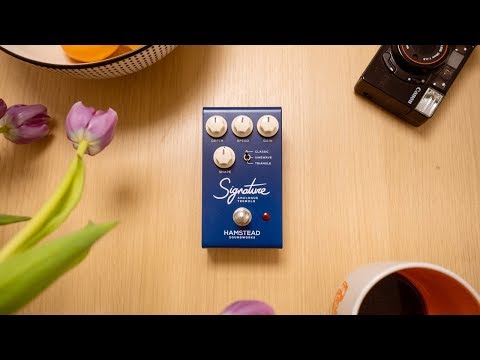 Hamstead Soundworks Signature Tremolo MKII
Analogue Waveform Perfection
Tremolo is one of the earliest effects to be applied to the electric guitar and its timeless quality has ensured its popularity across many genres throughout the years. Signature Tremolo MKII is Hamstead's take on this classic effect, created with the refined analogue engineering that Hamstead Soundworks is known for.
The Signature Tremolo MkII takes Hamstead Soundworks' renowned analogue 'Sinewave' circuit straight out of the Artist +RT series amplifiers and packages it into a pedalboard-friendly format. This is coupled with two additional tremolo modes and Wave Shaping features. Add speed control via expression pedal support and you have a flexible, yet high quality device than is perfect for adding movement to guitar or keyboards alike, without messing with your core tone.
Main Features:
Analogue Tremolo pedal
3 waveform Tremolo modes:

Classic 'Output Bias' – vintage feel of amp style trem
Signature Sinewave – as found in Hamstead Artist Series amplifiers
Triangle Waveform – for saw/reverse saw waveforms or classic choppy opto/photocell style trem

Shape Control for shifting the waveform shape – for a wide range of tremolo sounds
Expression Pedal Support – to change the speed remotely
Up to +10 dB of Clean Boost
All-analogue design (including waveform creation)
Designed and built in the UK
Powered by 9-18 V DC PSU
(centre -, 2.1 mm, ~ 250 mA current draw)
'Sinewave' mode is a true sinusoidal waveform for the cleanest, smoothest and most musical sounding tremolo. Switch to 'Classic' mode for a more vintage 'Output Bias' style feel, replicating the familiar tremolo sounds found in vintage amplifiers and thousands of seminal records from the 1950s to the present day. While 'Triangle' mode is far more natural sounding than the angular name suggests and is particularly useful when used with the Shape control.
The Shape control allows the ability to tilt any of the waveforms to the left or right. In Triangle mode this can create both up and down sawtooth waveforms for more modern tremolo and chopping effects and can really accentuate the thump of output bias style tremolo in Classic mode.
With speeds ranging from 0.4 to 15 Hz controllable either by the Speed control or an external expression pedal, this pedal offers superb versatility and playability. The Depth control sets the level of the effect from subtle modulation movement that you'll never want to turn off, right through to aggressive side-chain style pumping volume.
Signature's feature set is rounded off by a Gain control. This can provide a boost of up to 10 dB to really accentuate the tremolo effect or even push the front end of an amplifier. All of the waveform modes have the same internal compensation against perceived volume loss as Hamstead's Artist series tube amplifiers, allowing you to use the Gain simply as a boost if desired.
To round the pedal off, Signature Tremolo MKII features silent optical switching, plus the OptoKick footswitch from our friends at The GigRig for excellent reliability.
Additional information
| | |
| --- | --- |
| Weight | 0,7 kg |
| Dimensions | 10 × 16,1 × 8,3 cm |
Related Videos and Articles