Hamstead Soundworks Subspace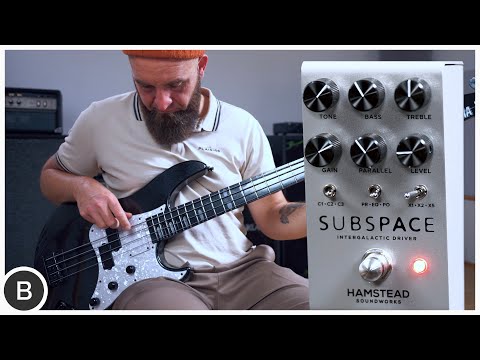 Hamstead Soundworks Subspace: Intergalactic Driver
A Journey Through Subspace
Hamstead Soundworks' journey to push the boundaries of what a drive pedal can be, has come to its next logical stop. This is the Subspace Intergalactic Driver – all of the analogue versatility of Odyssey by Peter Hamstead, now optimised for low frequencies.
With its re-voiced circuit, enhanced with the addition of a parallel dry control, Subspace allows you to craft your perfect driven sound without losing any character or low frequencies from your original signal. You'll be taken on a journey from clean boost with tone shaping, to warm vintage valve style overdrive, through to defined distortion and all the way to glitchy oversaturated fuzz.
Main Features:
Boost/Overdrive/Distortion pedal optimized for low frequencies
Perfect for Electric Guitar, Bass and extended range Instruments
Wide tonal spectrum from warm vintage Overdrive to glitchy oversaturated Fuzz
Parallel Dry Control with up to +6 dB boost
3 Clipping Circuits:

C1: symmetrical clipping – for consistent classic pedal drive tones
C2: asymmetrical clipping – creates transparent low gain drive with defined attack
C3: two clipping circuits – for natural, amp-like drive and distortion

3 Input Gain Boost modes – for up to +14 dB boost
(Unity, Double and 5x times Gain)
Switchable order of the Drive & EQ circuits
Active EQ with +/-18 dB of Clean Treble & Bass Boost & Cut
Powerful Instrument & Amp Tone Shaping
-10 dB Input Pad Switch for Low Gain Tones
All-analogue design with silent optical switching and OptoKick footswitch
Powered by 9 V DC PSU
(Centre -, 2.1 mm, 65 mA current draw)
While developed with bass in mind, Subspace can take you further than you would have imagined. When used with guitars it opens up a whole range of alternative and inspiring drive sounds. However, with bass it offers more than you could believe was possible from a compact analogue drive pedal.
Subspace takes all-analogue Drive & EQ circuits and pushes them to their limits, creating possibly the most versatile analogue drive pedal ever made. The Drive circuit is tuned for lower frequencies and features three clipping modes each with its own character and voice, while the Gain knob has a wide range – from very light breakup to incredibly saturated distortion.
This incredible versatility is made possible by how the Drive circuit interacts with the EQ creating a whole galaxy of tonal options. 'Post' mode enables powerful studio-style tone sculpting and 'Pre' mode can drastically alter the response and character of the breakup. Clipping stages can be boosted by the 'X' switch, setting the input level to X1 (unity), X2 (twice your original signal) or X5 to boost the input level by almost 14 dB. Boosting the level into the Drive circuit creates anything from a subtle increase in saturation and harmonics at low gain levels, but can also be used to push the clipping all the way to to glitchy oversaturated fuzz.
While the Tone control is a low pass filter that controls the high frequencies in the Drive circuit, which is very useful for tailoring Subspace to your set up. Alternatively, this can be used with the Treble control to fine-tune the high end.
The Parallel control in Subspace works as a volume control for your dry signal and features a notch at the 12 o'clock position for unity gain, which can then be boosted by up to +6dB. Unlike a normal passive blend control, your dry signal is split by a high-quality buffer circuit meaning that 100% of the signal goes to both the Drive circuit and the Parallel circuit with no tonal loss.
Subspace features silent optical switching, plus OptoKick footswitch from our friends at The GigRig for excellent reliability. The pedal has been extensively tested with a large range of familiar, guitars, bases and amplifiers, ensuring that it will work superbly with any setup.
Additional information
| | |
| --- | --- |
| Weight | 0,74 kg |
| Dimensions | 10 × 16,1 × 8,3 cm |
Related Videos and Articles