Hamstead Soundworks Zenith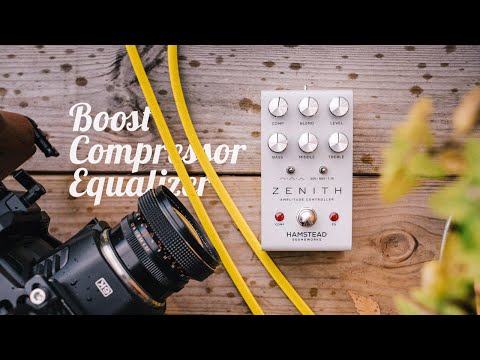 Hamstead Soundworks Zenith: Amplitude Controller
The Ultimate Tone Shaper
Tone is more than just guitars, amps and pedals; but the voice of the player. Once your core elements are brought together, you can refine your sound or even push it to a whole new level. Meet Zenith – a powerful EQ, Boost and Compressor, all delivered in one compact and incredibly flexible package.
From subtle tone shaping and compression that is felt and not heard, through to extreme sound sculpting and sustain beyond the natural realm, Zenith's three circuits cover it all. Digitally controlled switching then allows the 100% analogue EQ and Compression circuits to be accessed independently and all via one OptoKick footswitch.
Main Features:
EQ/Boost/Compression pedal with all-analogue design under digital control
+20 dB of completely clean and transparent gain
Active 3-band EQ, voiced to have an amp like and natural feel
Switchable mid frequency and Q for powerful tone shaping
Incredibly transparent compression circuit, with a low noise floor
Blend control, allows dialing in the feel of the compression
Switchable order of the EQ and Comp circuits, plus a Parallel mode
Secret Switching, gives full control over the EQ and Comp circuits independently
Control input for switching via an external footswitch
Powered by 9-18 V DC PSU
(centre negative, 2.1 mm, 280 mA current draw)
Treble, Middle and Bass controls are nothing new to guitar effects, but with Zenith we have endeavoured to voice these parameters to not only sound, but feel natural to use. Boosted high frequencies are present but not harsh; boosted lows remain tight while adding warmth, and the Middle control offers a huge amount of flexibility with its three position 'Q' and Frequency switches.
Compression is an often misunderstood and potentially complex effect in guitar culture. We wanted to design a circuit that was simple to use, but at the same time incredibly high quality and versatile. Our compression circuit has a very fast attack and medium/long release and is designed to work with any set up and remain very transparent. The feel of the compression can also be dialled in with the Blend control, allowing natural pick attack but also hugely increased sustain. Covering a wide range from subtle level balancing through to hard compression with very musical bloom, pro compression has never been easier to achieve.
This is Hamstead's first pedal to feature 'Secret Switching' and that provides independent control of the EQ and Compression circuits. For those using switching loopers, Hamstead wanted to bring back functionality to the OptoKick and adding two switches to a compact pedal makes both difficult to operate on a tightly packed pedalboard.
By holding down the OptoKick, the pedal enters the programming mode with 5 switching options; Standard (both on, both off), Flip/Flop, Comp always on, EQ always on and Cycle. For example: Zenith can be used as an always on EQ with compression engaged via the switch, or used to Flip/Flop between the two effects.
A final addition to Zenith was the Circuit Order switch on the rear on the pedal. This allows you to place the EQ either before, after, or in parallel to the Compression circuit. While a common studio practice, this is the first time this feature has been included in a compact guitar pedal.
With its features of EQ and Compression, Zenith can recreate the tone and feel of your amp at its best at all volume levels. When you have found your tonal nirvana at gig volume, turning an amp down to practise levels often results in EQ changes and lack of output tube sag and saturation. With Zenith, you can attenuate the volume with the Level control without affecting pre-amp gain in an FX loop, or add a drive pedal in the front end for your breakup style of choice. Adjusting the EQ then brings back your original tone and by adding a touch of compression, the feel of tube sag returns with musical bloom.
Zenith features silent optical switching, plus OptoKick footswitch from our friends at The GigRig for excellent reliability. The pedal has been extensively tested with a large range of familiar guitars and amplifiers, ensuring that it will work superbly with any setup.
Additional information
| | |
| --- | --- |
| Weight | 0,74 kg |
| Dimensions | 10 × 16,1 × 8,3 cm |
Related Videos and Articles