Modular Overdrive/Distortion with MIDI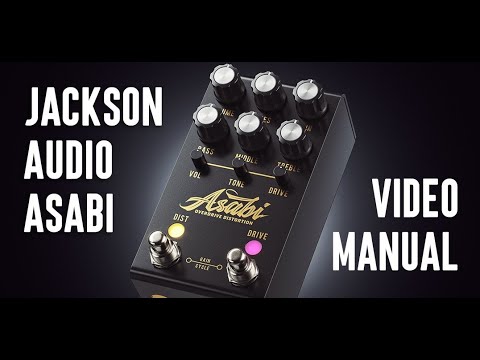 Jackson Audio ASABI – Mateus Asato Signature
Modular Distortion/Overdrive
Developed with Mateus Asato, one of the predominant guitar voices of today, the ASABI Modular Distortion/Overdrive pedal had a two-year development process. Every detail was painstakingly refined to ensure that both the Distortion and Overdrive channels would work together, to perfectly recreate the soulful overdrive and the liquid high-gain tones that legendary guitarist Mateus Asato is known for. Incorporating the Jackson Audio signature modern-day control features such as Clipping Styles, a 3-band Active EQ for maxing out the pedal's tonal flexibility, their innovative GAIN CYCLE circuit and full MIDI control and the result is undoubtedly one of the most versatile platforms for drive tones ever created.
In addition, Jackson Audio has developed the technology to create replaceable distortion modules for ASABI – analog circuit boards that can be easily swapped out to fundamentally change the tonal direction of the pedal. While a range of modules will be available, the pre-installed MODERN HIGH GAIN module gives you a plethora of tones, ranging from classic rock to crushing heavy metal!
Main Features:
Analog Distortion and Overdrive pedal
Unique modular and replaceable Distortion board concept
Installed MODERN HIGH GAIN Distortion module – based on the JCM800 high-gain sound
Overdrive circuit based on the smooth Plexi-style tone
Active 3-band Parametric-EQ – for optimal tone shaping
MIDI control
4 Clipping-Diode Styles for both Distortion and Overdrive circuits, with drastically different sound characteristics
Output level matching circuitry – counteracts output level differences of various Clipping-Diode options
GAIN CYCLE circuit – for instant gain adjustment in 4 steps
Small footprint and top-mounted jacks – for ease of pedalboard mounting
Powered by 9 V DC PSU
(centre -, 2.1mm, ~ 160 mA current draw)
The name ASABI, which means, 'of unusual birth' was chosen by Mateus because it speaks to the unique nature of this pedal, as well as his own family heritage.
Designed to make the pedal a complete 'Marshall-in-a-box', ASABI's factory installed MODERN HIGH GAIN module features a super high-gain Distortion circuit. This perfectly recreates the detail and harmonic complexity of a legendary JCM800 amplifier. With this module, the resulting tone is very open, crisp and addictively fun to play and covers everything from 80's hard rock to more modern high gain tones at any volume. Adding to the functionality, the Distortion circuit also has a 3-Band Active EQ that is based on the legendary Baxandall EQ. This gives tremendous tonal flexibility, tailored specifically for guitarists and to top it off, via internal trim pots, you can change the frequency and Q of each band making this Fully-Parametric.
Other optional Distortion modules available will include the LARGE MOUSE – a fully analog distortion module with the legendary sound of the ProCo Rat distortion – with many more to come and being released all the time, this modular concept will turn ASABI into your drive Chameleon!
ASABI's separate Overdrive channel features a soft clipping circuit that was designed to capture the smooth overdrive and touch responsiveness of a vintage Marshall Plexi. This circuit, which is in its own true bypass loop, can be used independently of the Distortion and is very useful for boosting the front end of that circuit for even higher gain.
But that isn't all. With 4 different Styles of clipping modes, each can drastically alter the tone and feel of the way the Distortion or Overdrive clips. With 'Vintage Marshall', 'Classic Screamer', 'Asymmetric' or 'Symmetrical' clipping, ASABI can really be the foundation of any distortion tone you wish to achieve to suit your tone goals.
Amongst the most exciting features of the ASABI is the Gain Cycle, which takes the Gain knob setting, and divides it into 4 equal parts, making them instantly accessible as steps to cycle through by simply pressing both footswitches simultaneously. As with all of Jackson's multi-option drive pedals, a unique circuit matches the output level of the pedal in its various clipping diode styles. So, no matter which of the four clipping options you choose, on either Distortion or Overdrive sides, your volume level will remain constant. This helps to you to alter how the pedal interacts with your amp or any other pedal(s) you may have in your rig and all on the fly.
Add in MIDI control over Clipping Styles, Gain-Cycle options, Drive EQ options as well as ON/OFF of the Overdrive and Drive circuits and the ASABI is definitely the most powerful and comprehensive analog drive pedal ever made.
Additional information
| | |
| --- | --- |
| Weight | 0,45 kg |
| Dimensions | 16,51 × 11,43 × 8,26 cm |
Related Videos and Articles