Jackson Audio BLOOM V2 Black
Midi-Controlled Dual Compressor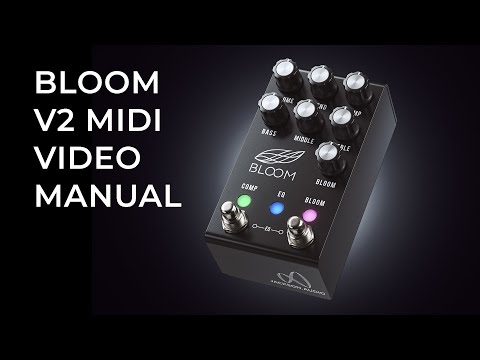 Jackson Audio BLOOM V2
MIDI-Controllable Optical Compressor
Designed to give guitarists maximum dynamic tonal control, the BLOOM V2 is a comprehensive dynamic engine that features fully fledged MIDI control over all 6 compression settings.
A three-fold device, the BLOOM V2 manipulates the dynamics of the instrument by way of precisely tuned optical compression, 3-band equalization, boost and sustain circuits which can be activated separately or in tandem with each other, allowing compression control in ways never before possible.
Main Features:
Compressor pedal
Optical LA-2A style limiting circuit
MIDI control over all 6 compression parameters, ON/OFF and Level
6 instant access presets
Flat frequency response paired with 3-band EQ for optimal tone shaping
Small footprint and top-mounted jacks – for ease of pedalboard mounting
Powered by 9 V DC PSU
(centre -, 2.1mm, ~ 300 mA current draw)
The BLOOM V2 features an optical limiting circuit that takes its inspiration from compressors designed during the golden age of vacuum tube circuits, known for their transparency and subtlety.
While the pedal can provide a very aggressive response at more extreme compression settings, its real strength lies in its ability to add a gentle sweetening and roundness to the tone, as the optical circuit works to polish off any rough edges in the sound.
Hidden inside the BLOOM V2 is a second auxiliary compressor circuit identical to the main compressor with two internal trimmers for Comp and Volume. It can be used in series ahead of the main compression circuit in making notes sustain, while still remaining clear and clean.
The BLOOM V2 can work as a regular set and forget boost. However, by pressing and holding the footswitch down, the BLOOM circuit can slowly ramp up to the level set by the boost. This programmable ramp-up time, can be used to increase sustain on held notes or to perfectly match the dynamics in a song.
The 3-band EQ circuit features a studio-grade EQ that gives tremendous tonal flexibility. Based on the legendary Baxandall EQ that is featured in countless studio devices, the BLOOM V2 takes this circuit and tailors it for guitarists. Jackson Audio spent a huge amount of time on this EQ dialling it in, so it would hit all the frequencies that guitarists need to adjust and then sweetened it by removing the ear-fatiguing highs and lows that can appear at extreme settings.
Because of its natural touch response, the BLOOM V2 is ideal for players who typically don't use compression but want the 'mastered' response that optical compression gives to a guitarists tone. Add in the MIDI control of the individual circuits Bypass features (Compressor, EQ, BLOOM) and the overall BLOOM level (via MIDI expression control) and the BLOOM V2 is no doubt one of the most versatile compressor pedals ever made.
Additional information
| | |
| --- | --- |
| Weight | 0,46 kg |
| Dimensions | 16,51 × 11,43 × 8,26 cm |
Related Videos and Articles