Modular Analog Fuzz with Octave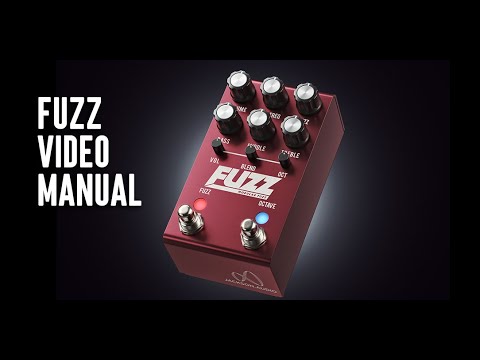 Jackson Audio FUZZ
Modular Fuzz Pedal with Octave
Sporting that spitting, snarling and surly sound of rock legends past and present, the FUZZ Modular Fuzz pedal from Jackson Audio takes faithful recreations of historic fuzz circuits and brings them together in one modular pedal. This allows you to create classic fuzz tone, as well as new fuzz sounds that would have been impossible with just the original circuits! The idea of creating a modular fuzz came about as we were trying to decide which style of fuzz would be the most musical fuzz of all time. The answer quickly became "All of them! They're all different and bring something unique sonically".
With the FUZZ, you can update your fuzz sound completely with our swappable analog plug-in modules and turn your device into a whole new pedal with a simple and affordable plug-in swap out.
In the 30 years since Brad Jackson began playing guitar, he's always loved fuzz pedals. Having bought countless versions of fuzzes over the years, in his mind these pedals have always had a massive shortcoming – they desperately need more effective tone controls! That's why Jackson Audio designed the FUZZ with a 3 band, fully parametric EQ. EQ and especially the mids are where the guitar makes its stand. Not enough mids and your guitar is lost in the mix. Too much highs and your tone is piercing and off-putting. Too much bass and you compete sonically with the bass drum and bass player. With the 3-band Parametric EQ on the FUZZ, you have 9 controls at your disposal to fully sculpt your tone and make sure the riffs you are laying down are NEVER lost in the mix!
Main Features:
Analog Octave Fuzz pedal
Unique modular and replaceable Fuzz plug-in concept
Installed MODERN FUZZ plug-in module – a modern take on all that is good from a spluttery vintage pedal
Additional included FUZZ CLASSIC/VINTAGE plug-in module – based on the classic Fuzz Face circuit
Separately switchable Octave circuit with Blend control
Other plug-in modules available for a world of fuzz tones
Active 3-band Parametric-EQ – for optimal tone shaping
Small footprint and top-mounted jacks – for ease of pedalboard mounting
Powered by 9 V DC PSU
(centre -, 2.1mm, ~ 50 mA current draw)
A good fuzz and a good octave pedal go hand in hand. Jimi knew it, Stevie knew it and you know it. If you want to put some purple in your haze, you're going to need an octave pedal and the octave circuit in the FUZZ is outstanding! Covering everything from perfectly pure octave up to screaming splatting sonic mayhem, the octave circuit in the FUZZ is the perfect marriage of vintage and modern thanks to its unique octave BLEND control. The BLEND control mixes your clean signal with the fuzz/octave signal so you can dial in precisely how much octave effect you want. Guys like Doyle Bramhall II use this to great effect by adding just a little octave to their sound which gives it a little "lift".
With the BLEND control fully counter-clockwise, the octave circuit acts as a boost and is perfect for slamming the front of the fuzz circuit for more gain! Pro Tip! Boost + Fuzz Face = Tone Bender! This boost is also perfect for boosting the front of other pedals or just running as an always-on signal buffer/booster. Fully clockwise, there is no clean blend so your signal is fully fuzzed out with however much fuzz/octave you have dialled in with the OCT control.
The Fuzz is supplied with two analog plug-in boards, so right out of the box you have two completely different and versatile circuits to choose from. From vintage-style fuzz at lower settings, to snarling spitting fuzz at higher settings the MODERN FUZZ (installed) plug-in does it all and cleans up beautifully when your guitars volume control is lowered. FUZZ CLASSIC/VINTAGE is the additional plug-in the FUZZ ships with. This plug-in is the classic Fuzz with the 'smiley face' and has lower gain and a looser/softer feel which is perfect for the earlier Jimi-era tones.
In addition, a growing range of other modules will be available. Dead simple to install, you simply unscrew the FUZZ' backplate, remove the stock fuzz module and replace it with any of the analog fuzz plug-ins. Voila! Your new fuzz pedal with all its features is accessible and ready to go!
Additional information
| | |
| --- | --- |
| Weight | 0,45 kg |
| Dimensions | 16,51 × 11,43 × 8,26 cm |
Related Videos and Articles