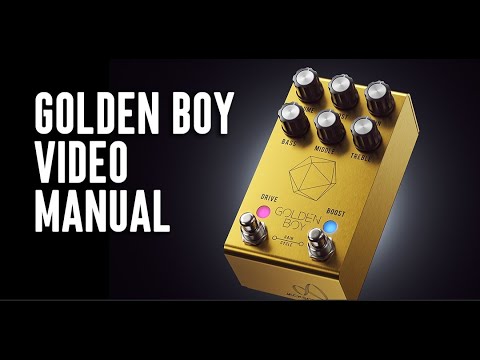 Jackson Audio GOLDEN BOY
MIDI-controllable Transparent Overdrive
Designed in collaboration with Canadian alt-country star Joey Landreth, the GOLDEN BOY Transparent Overdrive is in no doubt one of the most versatile transparent overdrive pedals ever made.
Rich in harmonic detail and overflowing with headroom, the pedal redefines the concept of transparent overdrive and brings it up to date with modern features, such as styles for clipping options, a 3-band active EQ for maximum tonal flexibility and Jackson Audio's innovative GAIN CYCLE feature. All that is topped off with a separately switchable MOSFET boost circuit and full MIDI control over all the GOLDEN BOY's plentiful parameters.
Main Features:
Transparent Overdrive and Boost pedal
Based on the celebrated Bluesbreaker/King of Tone circuit
Active 3-band EQ – for optimal tone shaping
MIDI control over all parameters, ON/OFF and Boost
4 Clipping-Diode Styles with drastically different sound characteristics
4 differently EQ'd Boost Styles
GAIN CYCLE circuit – for instant gain adjustment in 4 steps
Small footprint and top-mounted jacks – for ease of pedalboard mounting
Powered by 9 V DC PSU
(centre -, 2.1mm, ~ 100 mA current draw)
For the overdrive circuit, the pedal is based on the Bluesbreaker/King of Tone circuit, resulting in a very open, uncompressed and transparent tone – think 'John Mayer style' overdriven tones. It sits in the mix perfectly and while it adds overdrive and grit, your guitar still sounds like your guitar. Where the GOLDEN BOY differs from other Bluesbreaker type circuits is that its overdrive has the ability to run much higher gain. There are also 4 selectable and distinct clipping modes available to further tailor the tone to you.
One of the most exciting features of the GOLDEN BOY is the GAIN CYCLE, which takes the GAIN knob setting and divides that level of gain into 4 equal instantly accessible steps to cycle through. A unique circuit level matches the output of the pedal as various clipping diodes are selected, so now you can select between all four clipping options and your volume level will remain constant.
The boost circuit is MOSFET based, much like the AMP MODE found in Jackson Audio's best-selling PRISM Preamp pedal. This has its own true bypass loop, which means it can be used independently of the DRIVE circuit. One of the things that makes the boost in the pedal unique from other boosts on the market are the 4 styles available. Each style is EQ'd slightly differently, which allows it to alter how it interacts with the overdrive circuit in the GOLDEN BOY or any other pedal you may have in your rig.
To top it off, the DRIVE circuit has a 3-band active EQ that gives tremendous tonal flexibility. Based on the legendary Baxandall EQ that is featured in countless studio devices, the GOLDEN BOY takes this circuit and tailors it for guitarists.
Jackson Audio spent a huge amount of time on this EQ dialling it in, so it would hit all the frequencies that guitarists need to adjust and then sweetened it by removing the ear-fatiguing highs and lows that can appear at extreme settings.
Additional information
| | |
| --- | --- |
| Weight | 0,45 kg |
| Dimensions | 16,51 × 11,43 × 8,26 cm |
Related Videos and Articles