Stereo Analog Chorus / Vibrato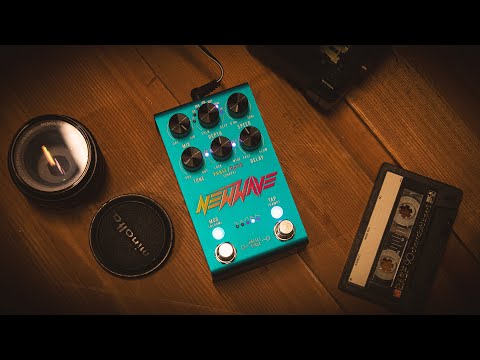 Jackson Audio NEW WAVE
Stereo Analog Chorus / Vibrato
For the NEW WAVE, Jackson Audio set out to make the best sounding and versatile 100% analog and stereo chorus/vibrato pedal.  Offering a ton of flexibility with programmable presets and many industry firsts, the brand had the pleasure of working with Mark Lettieri from Snarky Puppy to create the ultimate chorus pedal.
To achieve this, they knew they could not go digital for the core circuit, yet Jackson Audio still needed to add the features that only digital products provide. Using authentic analog MN3007 BBD chips, operating at 15 V internally exactly like the best 80s units did, this pedal delivers all the classic sounds with added modern precision, as well as all-new modulation sounds.
For the control section, a digital microprocessor gives unparalleled control over the analog circuit for unmatched waveform accuracy. Add in programmable presets, features and MIDI, with an easy to operate interface, New Wave is designed for guitar, bass, synths and keys and will add a touch of quality modulation to any set up.
Main Features:
Stereo Analog Chorus/Vibrato effects pedal
Analog modulation section, based on real MN3007 bucket-brigade chips
Digital microprocessor for precise control
7 presets tailored for classic and modern Chorus, Vibrato, and Rotary sounds

70s – Classic mono chorus, using clock and LFO settings measured from an original CE-1
80s – Stereo chorus, reminiscent of the classic CE-300
RCK – 80s style chorus, with a built-in +/- pitch shifter for a classic rack tone
VIB – Classic Vibrato, with complete control
ROT – Pitch and amplitude modulation effect, for an accurate emulation of a Leslie speaker cabinet
HRM – Harmonic mode, modulates each channel in a mathematical relationship for new chorus sounds
UC – User Control, allows for full control and the ability to create wild sounds

5 digitally controlled LFO wave shapes: sine, triangle, square and two custom harmonic shapes inspired by the ARP Solina keyboard
Mix control, to steplessly blend dry and effected signals (dry-chorus-vibrato).
Depth control, for super subtle to completely seasick modulation – press and hold to Save Preset
Speed range from 0.1 Hz to 10 Hz
Tone control, for super dark to super bright modulation tones
Phase knob, becomes a Ratio control to adjust the multiplier of right compared to left channel – very cool for Percussive and Leslie style Rotary effects
Delay knob, adjusts the center frequency of the BBD chips' control clock – for very loose or tight and compressed chorus tones
Tap Tempo, RAMP and BLOOM functionality
Full MIDI control and Expression control over speed, via 3.5 mm TRS jacks
Phase/Ratio control, for changing phase alignment of the dry and modulation channel from 0 to -180°
Top-mounted jacks – for ease of pedalboard mounting
Powered by (opt.) 18 V DC PSU
(centre -, 2,1mm, 250 mA current draw)
New Wave features seven presets tailored for classic and modern Chorus, Vibrato and Rotary sounds, including 70s, 80s, Rack, Vibrato, Rotary, Harmonic, and User Control. The pedal also offers five digitally controlled LFO wave shapes: sine, triangle, square and two custom harmonic shapes that are inspired by the classic ARP Solina string machine keyboard.
In addition to these presets, the pedal also offers programmable settings for use with expression, RAMP, or BLOOM foot switches. These settings include knob parameters, tap-tempo for speed control, slow and fast settings, 80's in-spired latch mode for momentary activation of the effect, full MIDI control, and expression pedal control of speed. The pedal also includes a phase/ratio feature, which changes the phase alignment of the two channels from 0-180 degrees out of phase to make for HUGE chorusing sounds!
Additional information
| | |
| --- | --- |
| Weight | 0,45 kg |
| Dimensions | 16,51 × 11,43 × 8,26 cm |
Related Videos and Articles