Boost, Preamp, EQ and Overdrive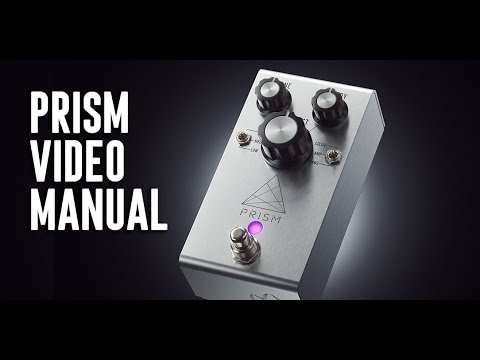 Jackson Audio PRISM
The Tone Sculptor
Designed as the ultimate tone shaping tool for a player's pedalboard, PRISM is a buffer, boost, preamp, EQ and overdrive, all in one beautiful and compact stainless-steel enclosure.
Much like an optical prism that takes white light and breaks it apart into the different colours of the spectrum, the Jackson Audio PRISM takes your guitar's natural tone and allows you to boost it, shape it and transform it into a new tone that is uniquely yours.
Main Features:
Boost, Buffer, Preamp, EQ and Overdrive pedal
±15 dB Active 2-band EQ
3 discrete Boost circuits, each with distinct voicings and 3 levels of gain
Perfect as a preamp, always-on or to give that extra push to gain sounds
Small footprint
Top mounted jacks – for ease of pedalboard mounting
Relay-powered True Bypass
Powered by 9-18 V DC PSU
(center -, 2.1 mm, ~ 10 mA current draw)
Traditionally, most players will use a boost/preamp pedal to drive the front end of a tube amp into overdrive and, given its huge amount of output, the PRISM does this very well. However, Jackson Audio encourage players to experiment by placing the pedal at the front of their pedalboards to enjoy the host of new tones available, as the PRISM boosts their existing signal chain.
The three distinct COLOR voices allow the pedal to suit all sorts of tone goals. Use VINTAGE mode for a silicon Treble-Booster style, AMP gives a very musical sounding MOSFET boost that emulates the tonal response of an overdriven vacuum tube amp, while TRANS provides an ultra-transparent JFET boost circuit. Each boost/preamp circuit is totally discrete and is contained in its own True Bypass loop, so there is never any additional circuitry in the signal path.
At the very end of the signal chain, PRISM contains a high-current buffer that is used to strengthen your signal and preserve your tone, regardless of how complex your pedalboard is or how long the cable run back to your amp can be.
Use PRISM to contour your tone, slam the front-end of your tube amp or add new dimension to your existing pedals – any way you use the pedal, it will be the cornerstone of your rig for many years to come!
Additional information
| | |
| --- | --- |
| Weight | 0,65 kg |
| Dimensions | 16,51 × 11,43 × 8,26 cm |
Related Videos and Articles