Keeley Electronics Aria Compressor Overdrive
Compressor Overdrive pedal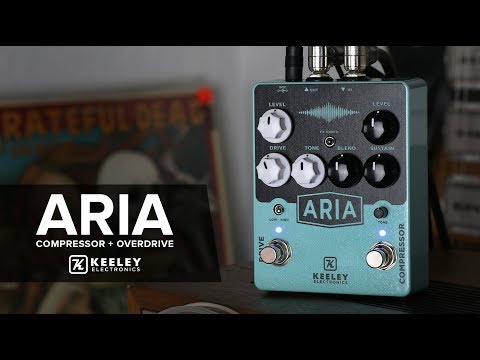 Keeley Electronics Aria
Compressor Drive
The Ultimate Compressor and Overdrive Experience
Compression and Overdrive are the foundation of my engineering. These two Keeley tones have inspired countless musicians, now they sit in one extremely versatile, sonic tool.
The Aria Compressor Drive not only offers out most flexible overdrive to date, it has all the tone and blend features of the Compressor Plus. Players also have the ability to swap the order of the compressor and drive for two very useful drive experiences.
Two-Mode Overdrive: Soft clipping and a transparent boost to midrange frequencies, perfect for defining your own voice.
Compressors and Overdrive are a fundamental part of the guitar recording process. They are also essentials for live guitar performance. You have two ways you can combine the beautiful midrange of overdrive and the benefits of compression and sustain. Most people run compression before overdrive in order to reduce the potential for idle, static noise. There are times when you want added sustain and therefore might need the compressor after overdrives, because using compressors after overdrives offers players a very warm and rounded, smooth and even tone with tons of sustain. And then you may need to return to the conventional routing, because compression before drives gives you a consistent gain level. Problem solved! Each half of the flexibly routed Keeley Aria Compressor Drive provides tons of volume for boosting and pushing your amp, with each half offering essential tone shaping controls to perfectly sculpt the core of your guitar's sound.
Main Features:
Compressor and Drive effect pedal
Combining Keeley's Compressor Plus a two-mode Overdrive
2 Overdrive gain modes:

High – Soft Clipping Overdrive
o Low – Transparent Midrange Boost

Compressor Tone control based on analog delays and other vintage effects – gently adds back in highs lost in compression
Compressor Blend Control – for keeping all the peaks and transients while adding sustain
Order switch – for selecting order of Boost and Drive effects in the signal chain
Pro Rig designed remote control thru 1/4″ jacks – for live use with pedal switcher systems
Top-Mounted Jacks – for a compact pedalboard layout
Made in Edmond, USA
Powered by a regular 9V DC PSU
(centre -, 2,1 mm, low ~55 mA current draw)
The Aria Compressor Drive comes with TRS insert jacks to allow you to divide the pedal into two units. Insert effects between the two sides! Compressor into delay into overdrive, anyone? Maybe swap that for overdrive into delay into compression.
For nearly two decades, from nearly every Nashville session-ace to the praise and worship player at church, from Steely Dan, Steve Vai, Johnny Hiland, Daniel Donato, Arianna Powell, to Nicholas Veinglou, the Keeley Compressor and Red Dirt have been a part of these performing, recording, and touring sounds. Now, these two epic tones are together in one stomp box that is easy to use and full of features.
Additional information
| | |
| --- | --- |
| Weight | 0,45 kg |
| Dimensions | 13,8 × 10,4 × 6,7 cm |
Related Videos and Articles