Keeley Electronics Dynatrem
Multiple waveform tremolo pedal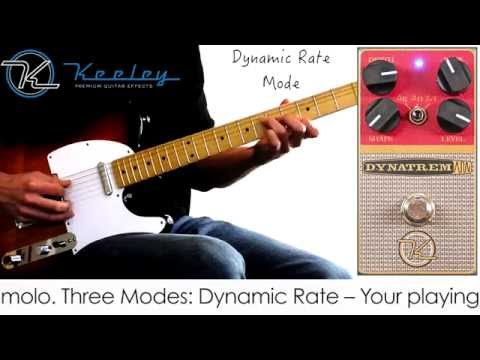 Keeley Electronics DynaTrem
Dynamic Tremolo
The DynaTrem Dynamic Tremolo by Keeley Engineering is an all new type of tremolo that is dynamic and responsive to your playing. Your playing controls the Rate and Depth. The harder you play, the more it responds. Play softly and it relaxes. Set the sensitivity with Rate or Depth controls and you have an unparalleled ability to be expressive with your guitar and tremolo.
Main Features:
Dynamic Tremolo effect pedal
Vintage tube amp style amp tremolos and reverbs
3 Tremolo modes

Dynamic Rate – will use Guitar level to calculate to calculate tremolo rate – louder = faster
Dynamic Depth – playing dynamics modulate tremolo depth – louder = deeper
Harmonic tremolo – warm sounding phase or wibe type vibrato with dual filter, shape becomes a reverb control

Pedalboard-friendly size – for compact rigs
Made in Edmond, USA
Powered by a regular 9V DC PSU
(centre -, 2,1 mm, low ~65 mA current draw)
Dynamic Rate – Your playing strength controls the Rate. The harder you play, the faster it modulates! Relax and play softly and the tremolo almost stops.
Dynamic Depth – Play gently and it just barely throbs. Play aggressively and it and pulse hard and deep.
Harmonic Tremolo + Reverb Mode. Yes that phaser/vibey, soulful and sweet sound! We have crafted our own circuits to give you a sound that is sinfully good. Slippery and smooth, you won't want to gig without it. Add Reverb by adjusting the SHAPE control
With a spin of the SHAPE control you get 4 wave-forms: Ramp Up, Sine Wave, Ramp Down, and Square Wave.
4th Mode! All DynaTrems after serial number 300 have a hidden feature mode: Stanard Tremolo Turn the Shape knob all of the way down and it become a standard triangle wave tremolo in the Delta Rate or Delta Depth modes. Call us for a free upgrade if yours does not have this feature.
Or, when in Harmonic Tremolo Mode the Shape control is Reverb!
Integrated noise reduction – developed with the code to reduce noise swells common with tremolo circuit, you get the quietest effect possible.
The DynaTrem Dynamic Tremolo features killer graphics! Looks like an old tube amp or old tube radio. Tone to match too!
Additional information
| | |
| --- | --- |
| Weight | 0,31 kg |
| Dimensions | 13,8 × 10,4 × 6,7 cm |
Related Videos and Articles