Keeley Electronics Filaments
Warm tube-like high-gain overdrive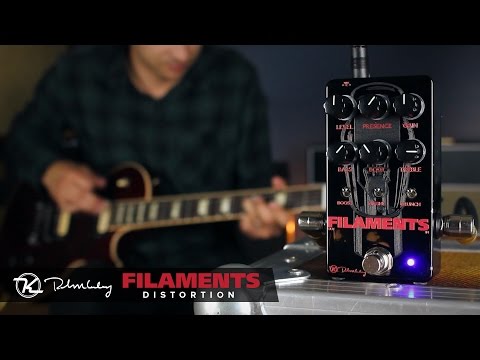 Keeley Electronics Filaments
High Gain Distortion
The Filaments accurately replicates high-gain tube amps by layering 3 stages of gain while providing 7 ultra-flexible ways to EQ the tone. It has more flexibility in tone-shaping than any other Keeley stompbox.
Main Features:
High Gain Distortion effect pedal
Perfect for any genre in the ranges of Punk to Metal
3 cascading gain stages – for high-gain tube-amp-like sound
Boost and Crunch switches for added gain and compression
Bright switch – for added tonal brilliance in conjunction with the Presence control
Ultra flexible 3-band EQ
Runs on 9-18V power for higher headroom, more headroom and more power
Pedalboard-friendly size – for compact rigs
Made in Edmond, USA
Powered by a regular 9-18V DC PSU
(centre -, 2,1 mm, low ~15 mA current draw)
The Filaments' Level and Gain knobs set the stage for rich layers of high gain tube-amp saturation. Bass and Body give you the punch and authority of a gain monster no matter what size amp you are playing. Even if you're running a 10-inch speaker the bass and body controls will give you the low end bass response you need.
Running through a 4×12 already? Just dial back the body control to keep the sound tight and focused. Have an amp that's hard to push? The Boost and Crunch switches give you two different levels of gain and compression to get your edge just right for your tone.
The Presence control works with the Bright control to give any guitar or pickup combination the authority to stand up and shout. Lastly, the Treble control gives you that added range of highs to make your amp sing.
Metal is more nuanced and subdivided that nearly any other style of music outside the classical stuff. The Keeley Filaments High Gain Distortion pedal feels your pain, brother.
So of course its amazing 7 layer tone-shaping lets you chameleon into any of these types of metal: Christian or Death Metal, Black Metal or Folk Metal, both types of Core, Grind and Metal. Crust Punk or Glam Metal? Progressive Jazz Metal or just good old Stoner Metal? We got ya covered. Get a Keeley Filaments High Gain Distortion pedal and pound it out !! Get creative! Create your own Metal.
Additional information
| | |
| --- | --- |
| Weight | 0,31 kg |
| Dimensions | 13,8 × 10,4 × 6,7 cm |
Related Videos and Articles