Keeley Electronics Magnetic Echo Delay
Vintage "Tape Echo" Style Delay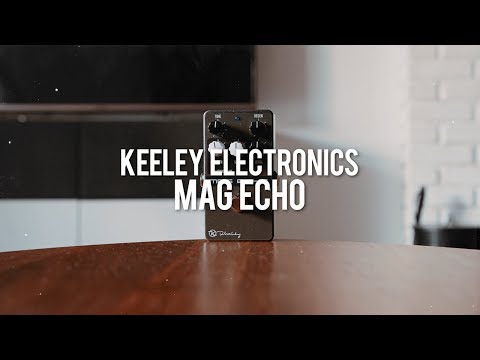 Keeley Electronics Mag Echo
Modulated Magnetic Tape Delay
Keeley Magnetic Echo – The Mag-Echo pedal simulates tube tape echo sounds by using the delay circuit and a little bit of modulation. Tape echos have long been regarded as a warm and very guitar friendly form of delay. The Mag-Echo achieves similar results by using a touch of Lo-Fi delay, a slightly filtered echo response to keep things warm, and some modulation. Modulation, or "Wow and Flutter" in the tape world is a slight pitch shift or wavering that occurs as the tape is pulled across the heads. The modulation we use is similar to what we use in our Seafoam Chorus, a slight wavering of pitch on the trails of the repeats. With a simple set of controls for the delay – Time, Regen, and Level and with the "Wow and Flutter" controls – Depth and Rate you can create some very vintage or rather unique tones.
Main Features:
Tape Echo style Modulated Delay effect pedal
Voiced after tube tape echo sounds
Fully adjustable modulation circuit to simulate wow and flutter of tape delay
40-600 ms delay time – perfect for everything from lo-fi slapback echo to modulated washes of ambience
Internal Vintage/Modern switches for warm vintage tone / modern full range clarity
Pedalboard-friendly size – for compact rigs
Made in Edmond, USA
Powered by a regular 9V DC PSU
(centre -, 2,1 mm, low ~45 mA current draw)
The Mag Echo's Echo controls include knobs for Delay Time, Regen and Level – simple enough! Time roughly sets the length between your repeats between 40ms and 600ms. This range is well suited for classic, vintage delay sounds that are great for slap-back or medium length delay times. Regen dials in the number of repeats. You can set this for a single slap back echo or turn it up for a runaway, self-oscillating or self-regenerating echoes. (Now go back and twist the Time control for some crazy sounds!) The Level control is your mix – just how loud you want to hear the echoes?
The Wow and Flutter is controlled by the pedal's designated Modulation section. Turn the Depth control to achieve deeper and deeper chorusing and pitch shifting on your echoes. As you raise the control the Depth and Rate LED will start to glow giving you a visual indication as to the amount of modulation you are applying to the repeats. Rate is your Flutter control. It's another way to control how poorly your tape echo is performing! Not that any tape deck was every in this bad of condition, but it sure sounds good to have a little pitch modulation on your echo! Using these controls gives you a nice way to create unique and very musical delays.
Whether you're into Rockabilly slap-back echoes, experimental sounds, or just want a great classic rock sounding echo, the Magnetic Echo will sound great in your rig. Keeley Electronics started to develop and produce this delay way back in 2005. But as things happened, we worked on other projects, always keeping an eye on the growing delay and echo market. We sure you will be very happy with the tone of this echo/delay/modulation effect.
It's pretty clear from this unbiased shoot-out that the Magnetic Echo wins. The delays sound more like the original and not as filtered and cut off. The modulation is more sophisticated. Price point is the same!
Additional information
| | |
| --- | --- |
| Weight | 0,31 kg |
| Dimensions | 13,8 × 10,4 × 6,7 cm |
Related Videos and Articles