Keeley Electronics Tone Workstation
4-in-1 Tone-building Block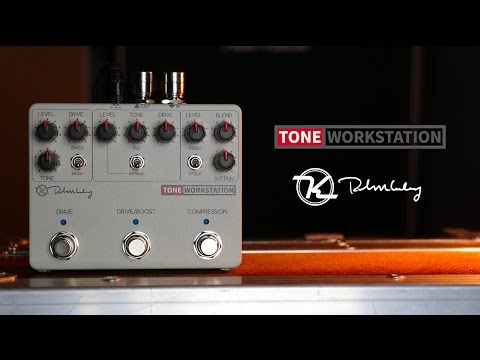 Keeley Electronics Tone Workstation
Vintage Compressor, 1962 British Amp Drive, Clean Boost and Mid-Voiced Saturation
The front end of your signal chain–this is where your tone develops. The first stage of amplification is critical for a sound that has clarity and delivers expressive tone.
Compression, Drive, Overdrive, Boost: you get it all here. The Tone Workstation is designed to be the first stage in your pedal board. It may even be the only pedal you bring to a gig. And we designed it that way.
Main Features:
Compressor/Drive/Boost effects pedals
Independent and separately switzchable Compression, Drive and Drive/Boost channels
Compressor based on the classic Keeley Compressor with a clean blend
Drive/Boost Channel contains 1962 Drive and Katana Boost circuits
Drive Channel contains Keeley Red Dirt Baked and MOD+ TS style overdrive
Top-Mounted Jacks – for a compact pedalboard layout
Made in Edmond, USA
Powered by a regular 9V DC PSU
(centre -, 2,1 mm, low ~50 mA current draw)
Starting with the classic Keeley Compressor, you can build a nice, thick tone full of sustain. Adjust the Sustain control for increased compression or squeeze. As you add sustain, your notes will ring out longer. The Blend control allows for a Manhattan-style compression, keeping the sound lively and crisp as you blend in your natural guitar tone. The Blend control is perfect for adding a little bit of bite back in with high output pickups or humbuckers. In addition, the Treble Boost switch can be engaged to further increase the treble and sparkle into the signal when using lots of compression. When the Blend is set completely CCW, you get only compressed signal out. Then, as you turn up the Blend, you blend in more and more of your original signal, all the way to a 50/50 ratio. The attack and release times are pre-set in this compressor and are set for use with humbuckers or single coils.
Next up is the 1962/Katana Boost section, because the Keeley Workstation gives you plenty of options for your core tone. With the 62/Katana channel, you can select a sound with just the right amount of break up. Or use it in Boost mode, for that clean, pushed amp-style overdrive. First, the 1962 is our British amp-style overdrive, which is full and even sounding with a moderate amount of crunch. Based on the famous Blues Breaker, the 1962 stage has been amplified by our Katana Boost on either side, adding tube-like saturation with our JFET valve simulation. But, decide you just want the famous Katana Clean push? No worries. Just a flick of the switch and you have it: pure clean, tube tone. In the Katana Mode, only the volume works; the Tone and Drive are disabled. It's a clean sound people say you just can't turn off.
Last in the chain is our renowned Red Dirt overdrive. You get 15 years of modding tube screamers distilled into one toneful circuit. Also featuring our JFET front end, the Red Dirt has the perfect amount of crucial midrange coupled with the option to go all the way from clean and clear to super-saturated gain, times two! The Red Dirt circuit captures every nuance of your guitar's tone and delivers a classic, smoking hot, silky smooth lead tone.
The Tone Workstation–reinvented, re-engineered, re-released for 2016–is the final word on your front end. In 2026, you'll wished you'd grabbed two.
Additional information
| | |
| --- | --- |
| Weight | 0,45 kg |
| Dimensions | 13,8 × 10,4 × 6,7 cm |
Related Videos and Articles