Keeley Electronics Verb O Trem Workstation
Powerful Reverb and Modulation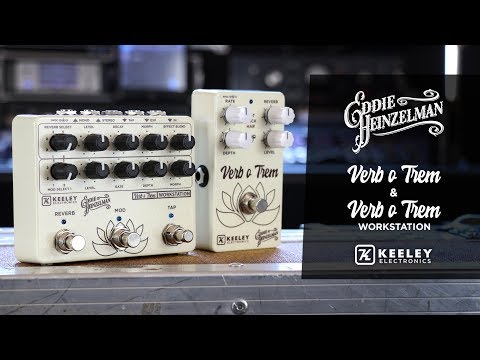 Keeley Electronics Verb O Trem Workstation
Vintage Reverb and Tremolo Combo
The Keeley Verb O Trem Workstation reverb and tremolo combo gives players a simple and beautiful sounding way to end their pedalboards. Reverb and Tremolo often sound best at the end of your guitar rig, after effects like compression, fuzz or overdrive.
The Keeley VoT Workstation gives you famous Keeley spring and plate reverbs as well as modulated tube amp tremolos. This immaculate pairing provides you with everything you need for a small, compact pedalboard.
Main Features:
Reverb and Tremolo effect pedal
Vintage tube amp style amp tremolos and reverbs
Separately switchable Reverb and Modulation banks
Tap Tempo for Modulation Bank
EXP input for Reverb Bank
8 Reverb modes

2 Spring
3 Spring
Plate
Hall
Chamber
Room
Fugue
Slapback

8 Tremolo modes

Sine Wave Tremolo
Square Wave Tremolo
Harmonic Tremolo
Dynamic Tremolo
Pitch Vibrato
Ramp Trem
Les'Rotary Speaker
U-Vibe

Pedalboard-friendly size – for compact rigs
Made in Edmond, USA
Powered by a regular 9V DC PSU
(centre -, 2,1 mm, low 170 mA current draw)
When you go minimalist, you still consider Reverb and Tremolo. Even the guys that just plug their guitar cord into an amp…still admit they love 'verb and trem!
So if you're doing a small gig with a compact board or you just want the captivating power of tremolo and reverb at the same time, the Keeley VoT Workstation is a simple and beautiful-sounding solution.
The Keeley VoT Workstation is a high-end Dual DSP effect workstation. Each effect, reverb and tremolo, are given their own effects engine. This allows us to create rich and ornate filtering. These are studio-quality sounds we have crafted over the years, refined by working musicians and studio engineers.
Additional information
| | |
| --- | --- |
| Weight | 0,45 kg |
| Dimensions | 13,8 × 10,4 × 6,7 cm |
Related Videos and Articles