Keeley Electronics Verb O Trem
Inspired Reverb and Tremolo Pedal
Stock coming soon - pre-order available
Stock coming soon - pre-order available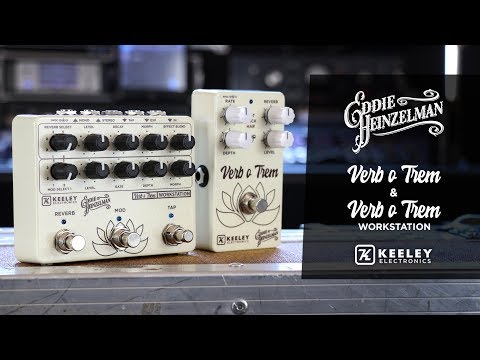 Keeley Electronics Verb o Trem
Reverb Tremolo Combo
The Keeley VoT reverb and tremolo combo gives players a simple and beautiful sounding way to end their pedal boards. Reverb and Tremolo often sound best at the end of your guitar rig, after effects like compression, fuzz or overdrive. The Keeley VoT gives you famous Keeley spring and plate reverbs as well as modulated tube amp tremolos. This immaculate pairing provides you with everything you need for a small, compact pedal board.
Main Features:
Reverb and Tremolo effect pedal
Vintage tube amp style amp tremolos and reverbs
3 Reverb and Tremolo modes

R+T – Reverb and volume tremolo
Mack – Reverb and Pitch Vibrato
Harmonic – Reverb and Harmonic Tremolo

2 Reverb modes – selected via internal DIP switch

Bank 1: Two-Spring Amp reverb
Bank 2 Plate Reverb

2 voicings – selected via internal DIP switch

Vintage – treble cut
Modern – no treble cut (stock)

Pedalboard-friendly size – for compact rigs
Made in Edmond, USA
Powered by a regular 9V DC PSU
(centre -, 2,1 mm, low ~65 mA current draw)
When you go minimalist, you still consider Reverb and Tremolo. Even the guys that say they just plug their guitar cord into the amp…still admit they love verb and trem!
So if you're doing a small gig with a compact board or you just want the captivating power of tremolo and reverb at the same time, the Keeley VoT is a simple and beautiful sounding combo.
If you want something super smooth, however, you flip it over to switch in our Plate Reverb. Get that huge plate reverb sheen by simply flipping a switch!
You have three blooming tremolos in the Keeley VoT. R+T is an organic tube bias type tremolo. This means you hear the tube amp bias change enough to modulate the volume. A very personal and haunting tremolo. Very moody. Mack mode is a MagnaAmp style pitch vibrato. Done by carefully changing the phase to elicit a silky smooth pitch shift. Sounds like you have your finger on the pulse of life. Sometimes a walk on the wild side is the way to go. HAR stands for Harmonically Amplified Resonator, basically it is a ´Harmonic Tremolo – two filters that are vined around, back and forth, creating a notch filter that gives you that Tower of Flower sound.
Here's where the flowering magic occurs: you can set the VoT to be either Reverb OR Tremolo OR Both if you want. Let's say you just need some 'verb for the night, simply reduce the Depth control! Reverb Purity. What if you want to use the tremolo only? Simply roll off the Reverb control.
This pedal can simply and easily be reborn into any combination of tones you need.
Additional information
| | |
| --- | --- |
| Weight | 0,31 kg |
| Dimensions | 13,8 × 10,4 × 6,7 cm |
Related Videos and Articles