3-Voice Rhythmic Pitch Shifter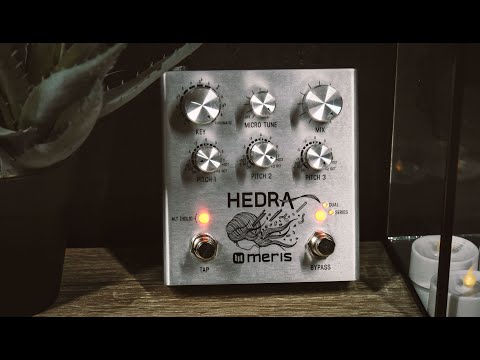 Meris Hedra
3-Voice Rhythmic Pitch Shifter
Every action has a reaction. A single stone thrown can create riveting ripple effects, while a humble key-turn can unlock a flurry of otherwise before unseen and unheard events. This is the magic Hedra bestows upon you and your instrument, seeing you unearth new harmonic sonic chain reactions with every single note played.
The Meris Hedra is a 3-voice rhythmic pitch shifter capable of adding 3 harmony voices to your instrument and with Tap tempo synchronised delay available for each voice, this beauty far transcends the realms of standard pitch-shifting. In addition, pitch glide, micro tuning, 4 individual delay configurations, adjustable pitch correction and midi keyboard control all combine in making Hedra an instrument and sonic experience like no other.
Main Features:
Advanced 3-Voice Rhythmic Pitch Shifter – from standard pitch-shifting to intricate dancing harmonies
Individual controls for Pitch and Time Offset for each voice
Chromatic or Key-Driven Harmony – with 6 selectable scale types via ALT control
4 Delay Line Configurations with unique Feedback Routing – for infinite sound design options
Unique Keyboard Control via MIDI – puts a live quartet under your fingertips
Micro Tune – creates gentle chorus-like detuning, classic studio fattening and extreme warping
Glide Mode – slides between pitches at the speed you choose
Choose to sweep through Intervals smoothly or hard step for dramatic pitch effects
Switchable Half Speed and Auto Swell for advanced textures
Digitally controlled Analog mix control
Stereo input and output
Switchable input / output headroom level for Guitar or Synth/Line level
Expression pedal control over all parameters simultaneously
Presets available via external 4-Preset switch or MIDI
MIDI in/out over TRS via the EXP jack (presets, automation, beat clock)
Premium analog signal path and 24-bit AD/DA w/32-Bit floating point DSP
Designed and built in Los Angeles, California U.S.A.
Standard 9V power
(9V DC, centre -, 2.1mm, ~150mA current draw)
You can keep it simple and just use Hedra as a standard chromatic pitch-shifter. Or you can begin to pile on the intervals and slip into its dancing diatonic dreamscapes, via its 6 different scales and wealth of rhythmical subdivisions. Now turn up the Glide control and hold down TAP for auto-swelling synthy portamento shifts – or bump up the pitch regeneration – and you'll be floating away on clouds of shimmering sci-fi effects. Hook a MIDI Keyboard or a MIDI Sequencer up to Hedra and turn your source instrument into a mind-bending tapestry of harmonies and hard-tuned pitch glides.
Although it adds an entirely new dimension to the humble 6 (or more) string instrument, Hedra is not limited to just guitars. In fact, you can use the pedal on pretty much any instrument or line-level audio signal you want.
Whether you choose to totally transform your beats on a drum machine, harmonise vocals or completely alter additional synths, loops or any other type of audio, Hedra's advanced pitch-shifting palette is sure to transport you and your sound to entirely new sonic worlds.
Additional information
| | |
| --- | --- |
| Weight | 0,7 kg |
| Dimensions | 12 × 20,5 × 7,7 cm |
Related Videos and Articles