Morningstar Engineering ML10X MIDI Loop Switcher
Reorderable Stereo Matrix Loop Switcher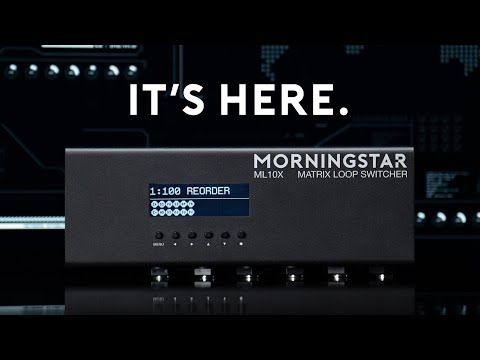 Morningstar Engineering ML10X Reorderable Stereo Matrix Loop Switcher
The ML10X is a stereo reorderable loop switcher designed to fit perfectly with any setup up you have. Whether your rig is mono or stereo, a pedalboard or rack, the ML10X will take its capabilities to planes previously impossible.
Main Features:
5 Stereo Loops or up to 10 Mono Loops
Stereo In and Out via TRS
4 Banks with 128 Presets Each
Intuitive Onboard Controls with large LC display
Seamlessly switchable loops with Spillover Trails
MIDI In and THRU
USB-C Connectivity and advanced Software Editor
Compatible with Any MIDI Controller that can send PC and CC messages
COMPACT – Allows for easy integration into pedalboards and rigs
The 5 stereo TRS loops on the ML10X can each be split into 2 mono loops, giving you a total of up to 10 independently controllable and reorderable loops.
To split a loop, simply connect a Stereo to Mono Splitter cable (available as an add-on) to the desired send and return ports. The split loops can function as 2 independent mono loops or the Left and Right channels of a stereo pedal.
The audio input and output of the ML10X are also stereo TRS. Use a Stereo to Mono Splitter cable to unlock their stereo capabilities.
Save as many sonic combinations you need with a total of 512 presets in 4 Banks with 128 Presets each at your disposal.
With an LCD display and navigation buttons, the onboard interface is easy to use and clearly shows important information to the user. Accessing global settings, editing presets and reordering loops are all possible on the device itself.
The ML10X Editor lets you access global settings edit your presets and reorder your loops with greater speed and clarity. A drag-and drop user interface makes it easy to select the loops you want and arrange them in the order you desire.
Simple mode makes it easy for you to make loop connections in series. Just drag and drop your desired effects onto your signal chain to add them to a preset and rearrange them in the order you want. Advanced mode gives you the freedom to split and merge your signal chain as you please. Complex routings in series and parallel are made possible in Advanced mode.
Seamlessly change presets and bypass loops without an abrupt cut in sound. This is especially useful for loops containing delay or reverb effects that trail on. Spillover trails can be applied to one or multiple loops, definable per preset.
If you own a Morningstar MIDI controller, you won't need to deal with MIDI numbers on the ML10X at all. Simply select the 'Morningstar ML10X' message type and you will be able to engage/bypass selected loops, scroll through presets and recall any preset of your choice,
The MIDI In port allows the ML10X to receive MIDI and its MIDI Thru port allows you to daisy chain it with other MIDI-capable devices.
USB-C connection to your computer is used for performing firmware updates, backups and for use with the ML10X Editor.
The ML10X has standard and comprehensive MIDI implementation. This makes it compatible with any MIDI controller that can send PC and CC messages.
Related Videos and Articles