Old Blood Noise Endeavors CHVRCHES Screen Violence
Stereo Saturated Modulated Reverb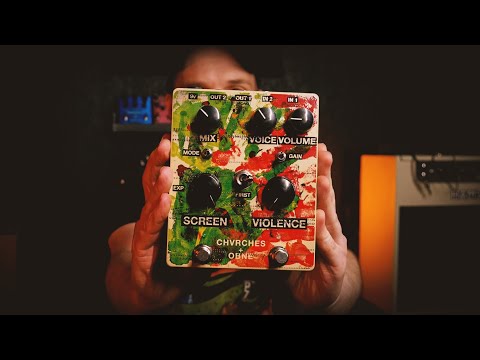 Old Blood Noise Endeavors CHVRCHES Screen Violence
Stereo Saturated Modulated Reverb
In collaboration with CHVRCHES, Old Blood Noise Endeavors unveils Screen Violence, an effects pedal inspired by the sounds of the acclaimed album of the same name. Featuring tube-inspired overdrive and a one-knob effect that expresses itself as modulation, delay, reverb, or a combination of all, Screen Violence blends inspiration from decades past and present to create a new stereo effect.
Main Features:
Stereo Saturated Modulated Reverb effects pedals
Developed in collaboration with Glaswegian modern synth-pop band CHVRCHES
Mono, stereo, and mono-to-stereo operation
Saturation section with control over Violence, Gain, Voice, and Volume to access gritty boosts through heavy overdrive
Modulated reverb section with control over wet-dry Mix and Screen, a magic knob controlling many parameters at once
Order switching to run Screen into Violence or Violence into Screen
Soft touch switching and relay bypass for each section
Expression jack to externally control Screen
Powered by 9V DC power adapter
  (2.1 mm centre -,  100mA current draw)
CHVRCHES are Lauren Mayberry, Iain Cook and Martin Doherty. Since their 2013 debut The Bones of What You Believe, the Glaswegian band have seen global success, critical acclaim and are considered pioneers of modern synth-pop. Their latest record, last year's Screen Violence, included the singles 'He Said She Said', 'Good Girls' and 'How Not To Drown', a collaboration with one of the band's musical heroes and rock icon The Cure's Robert Smith.
"We are really proud to be collaborating with Old Blood Noise because both Iain and I used so many of their pedals during the making of Screen Violence, the album. It feels like a full circle moment."
Martin Doherty, CHVRCHES
"Our aim with the collaboration was to distill the sound of the record into a pedal that would be versatile enough to use with guitars, synths, bass or whatever we wanted to throw at it. A lofty goal but I am proud to say that we achieved it together. The range of sounds that this box can make is breathtaking, making it such a useful tool live and in the studio."
Iain Cook, CHVRCHES
Related Videos and Articles