Old Blood Noise Endeavors Mondegreen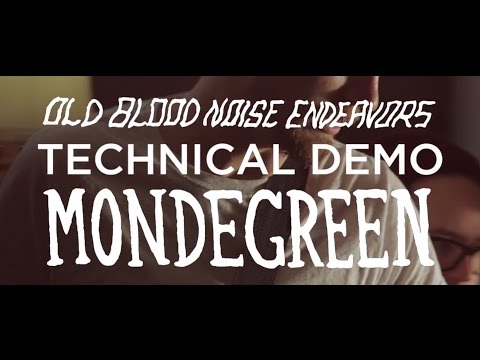 Old Blood Noise Endeavors Mondegreen Delay
Weird Delay Pedal
The Old Blood Noise Endeavors Mondegreen is a digital delay, totally hellbent on giving you something different than what you feed into it. It's delay, into modulation and we make no bones about it – it's weird! Perhaps it'll be strange enough in your own hands or perhaps we're just underestimating your adventurous nature? You sly old dog/precocious young pup you. Get out of here and go find your weird!
Main Features:
Modulated delay pedal – made for crisp otherworldly textures
3 different delay modes – stutter, Whirl and Sheer
Expression in – control either Time or Morph via an external expression pedal
Made in the USA
Powered by 9V DC PSU
(centre -, 2.1mm, ~60mA current draw)
The Mondegreen sports controls for delay time, delay feedback and delay mix. All of this will probably sound very familiar to you, so let's jump into the unfamiliar head first instead and get this Mondegreen party started!
A three-way toggle switch selects between three modes of modulated delay and the Morph control determines the depth of said modulation.
Stutter is a delay with a percussive tremolo on the trails. Morph controls the tremolo depth, from subtle to choppy. Time controls both the delay time and the tremolo rate. At its lowest setting, the delay time will be short and the tremolo rate will be slow, while at its highest setting, the delay time will be long and the tremolo rate will be fast.
Whirl is a modulated delay that adds chorus on the wet signal. Morph controls the chorus depth, from 0-100%. The chorus rate is fixed.
Sheer is a delay with increasing octaves on the repeats. The first repeat is a clean repeat of the dry signal, the second is dry and +1 octave, while the third is dry, +1 and +2 octaves etc. The Morph knob adds a subtle modulation to the repeats as it increases.
The expression input lets you take control over either the Time or Morph knobs (selectable via internal DIP switches) on the fly via an external expression pedal. Letting you go from short slap-backs to long trippy repeats simply with your foot.
The output level can be tweaked via an internal trim-pot for boost, slight drop, or unity gain.
Additional information
| | |
| --- | --- |
| Weight | 0,453 kg |
| Dimensions | 14,4 × 8,2 × 7,8 cm |
Related Videos and Articles