Old Blood Noise Endeavors Utility 3: Buffer + EQ
Buffer with Switchable 3-band EQ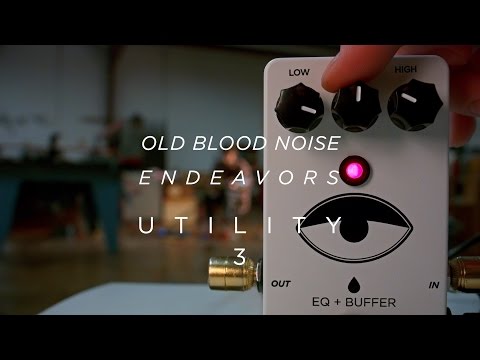 Old Blood Noise Endeavors Utility 3: Buffer + EQ
Buffer with Switchable 3-band EQ
Utility 3 is an always on Buffer and switchable 3 Band EQ that helps to tailor and sculpt the fundamental basis for your tone. You've probably heard of a buffer pedal and most likely, you stopped paying attention to the description of said buffer upon the realisation that it won't really change your sound that much.
Buffers though are extremely helpful to minimise signal loss for long cable setups or for when using an overabundance of pedals. Adding the Utility 3 to your rig is no exception and will improve your tone if you use many instrument cables or have an otherworldly complex pedalboard, making sure your amp is getting hit with the right amount of signal.
That's basically what you've got here – a buffer.
But wait – there's more!
You've also got a foot-switchable Three-Band-Equalizer – two utilities in one package.
This EQ is extra helpful and can be used as an always-on-EQ or you can switch it in and out as you need. Adjust your Highs, your Mids and your Lows, tailoring frequencies to specific parts and sounds.
Main Features:
Always on HQ Buffer
Foot-Switchable 3 band EQ

Low : 100 Hz Shelf
Mid : 500 Hz Bell
High: 2 KHz Shelf

Tough metal housing
Made in the USA
Powered by 9V DC PSU
(centre -, 2.1mm, ~30mA current draw)
Additional information
| | |
| --- | --- |
| Weight | 0,27 kg |
| Dimensions | 14,1 × 8,4 × 5,5 cm |
Related Videos and Articles