True Stereo Speaker Simulator and DI Box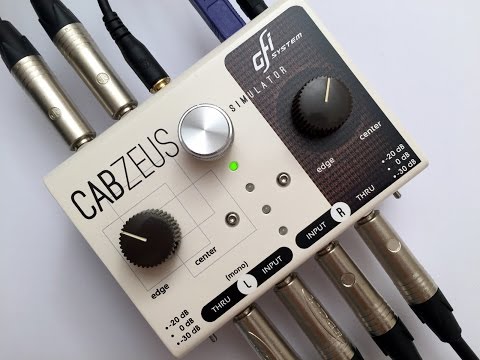 GFI Systems Cabzeus
True Stereo Speaker Simulator and DI Box
Cabzeus is a algorithm-based speaker – cabinet – miking simulator system. Connected direct to your gears this device enables you to obtain the sound of a miked-guitar amp cabinet without the hassle of miking your cabinets. Extending this basic function, we've built into Cabzeus a plethora of unique and powerful features that goes beyond simple speaker simulations.
Cabzeus has 2 independent channels, each with its own input, thru, and output. Using a special software that we provide you can freely customize the simulation aspects (speaker type, cabinet type, mic placement, etc.) of each channel independently. To help you get the most of your stereo setup, we have also included powerful stereo processing functions such as :
adding short delays (0.02 ms to 125 ms) to one of the channel.
blending two simulation channels.
independent volume and phase control.
Stereo Cabs : simulates the process of close-miking two independent speaker cabinets. Each simulator channel has its own extensive set of parameters, including speakers and cabinet type selections, mic-placement , blending, phase, and volume, offering rich and versatile simulation scenarios for both live and direct-recording applications.
Stereo Mics : simulates the process of capturing the sound from a single speaker cabinet using two microphones, one mic is placed close to the speaker (close-mic) and the other is placed further back in the room (room-mic). An extensive set of controls offers flexible arrangements and powerful means to combine the two microphone signals into huge expansive stereo sounds.
You can connect a wide range of input sources, ranging from your favorite stompboxes, preamps, your head amp's speaker out, to any music player (see Application Ideas). Its stereo balanced outputs are capable of driving long cables straight to mixing console or FOH speakers. These outputs are tolerant to phantom power, they will not be damaged by accidental application of phantom power.
Related Videos and Articles