Source Audio EQ2 Programmable EQ
Fully programmable 10-band Graphic Stereo Equalizer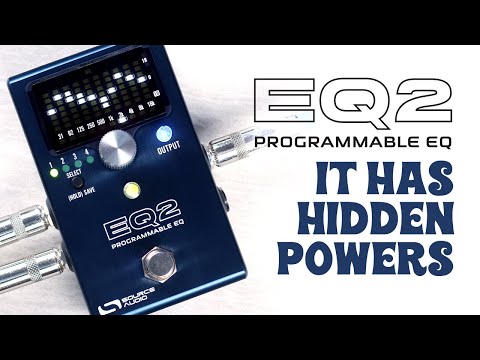 Source Audio EQ2 Programmable EQ
Fully programmable 10-band Graphic Stereo Equalizer
The EQ2 Programmable Equalizer is the most powerful and advanced equalizer pedal on the planet. This exceptional piece of gear builds off the legacy of its predecessor, the Source Audio Programmable EQ, a tremendously popular pedal that landed on the boards of numerous pro guitarists, including six-string icons David Gilmour, Steven Wilson, and John Mayer.
The updated EQ2 is a combination graphic and parametric equalizer with 10 fully adjustable frequency bands, stereo ins & outs, MIDI In and Thru jacks, 4 or 8 onboard presets, 128 MIDI accessible presets, an additional 12dB volume boost, and the ability to simultaneously run two separate and unique EQ settings, each of which can be independently routed to either stereo output. But wait, there's more: the EQ2 is also has a hidden TUNER function! How's that for saving space on your pedalboard?
Main Features:
10-Band Stereo Parametric Graphic Equalizer effects pedal
10 fully parametric adjustable frequency bands ranging from 31 Hz to 16kHz with +/- 18 dB boost/cut per band with frequendy center point and Q factor adjustments
4 onboard presets (8 in Preset Extension Mode) and additional 120 presets accessible via MIDI
Simple and easy to use 1-kob Control panel with LED matrix display
Additional adjustable +12 dB clean boost
Onboard chromatic Tuner
Deep customization features accessible via Source Audio Neuro App and Desktop Editor
4 Presets accessible via onboard controls (8 in Preset Extension Mode) , 120 more presets recallable via MIDI
Mix knob – for adjusting between 100% Wet/Dry Balance plus global Kill-Dry Mode
Stereo Inputs and outputs – for multiple advanced routing options
MIDI IN connection for accessing presets via MIDI CC or PC messages
Mini USB Port for PC connectivity (Windows and Mac compatible) and remote control
3.5 mm control port – for connecting compatible Source Audio control devices
Selectable Relay True or Buffered Bypass Switching
Included 3.5 mm to 6.3 mm TRS cable to connect to mobile device
Powered by (included) 9V DC power supply

(2.1 mm plug, center -, 180 mA current draw)
Source Audio created a completely new product category when we released the Programmable EQ pedal back in 2011. It gradually became one of our most successful products. We are confident that the EQ2, with its ten adjustable frequency bands, stereo I/O, and both graphic and parametric equalization capabilities, will be an extremely useful pedal to countless guitar, bass, and keyboard players of all genres
The EQ2 Programmable Equalizer is the perfect companion for any musician looking to enhance or add flexibility to their tone.  The availability of the full audible frequency spectrum across 10 completely customizable bands means that EQ2 is the EQ pedal not just for guitar, but for any electrifiable instrument.  This allows you to move each of the 10 bands to any point on the frequency spectrum from 20 to 20,000Hz.  With +/- 18 dB of boost or cut on tap for each band, bandwidth adjustments up to 10 times more narrow, flexible routing and separate stereo curves, an optional noise gate and limiter, and a deep interactive editing software, plus some shelving and high-pass frequency options, EQ2 is the ultimate Swiss-army knife for your tone.
The controls on the face of the EQ2 Programmable Equalizer provide quick access to a deep set of tone-sculpting tools unmatched in traditional effects pedals, but connect it to the free Neuro Desktop Editor and Mobile App (via the pedal's USB port) and access a beautifully laid-out set of controls ordinarily associated with only high-end rack gear. The Neuro Editor's sleek and user-friendly interface includes detailed parametric editing capabilities (Q factor and frequency shifting) for all 10 frequency bands, two-channel stereo options, noise gate and limiter controls, as well as detailed external expression control.
Additional information
| | |
| --- | --- |
| Weight | 0,45 kg |
| Dimensions | 16,5 × 15,7 × 6,4 cm |
Related Videos and Articles