Old Blood Noise Endeavors Utility 2: ABY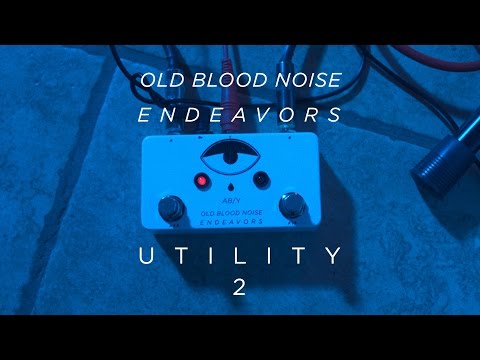 Old Blood Noise Endeavors Utility 2: AB/Y Switcher
Some pedals don't have to be interesting, they just have to work and have to do what they do. Even if it is just routing signal a certain way, like our Utility 2: AB/Y Switcher.
It's simple: sometimes you need two outputs, sometimes you need two inputs. And then you need to switch between them or use them both at the same time. That's it.
It's not magic, it's not revolutionary, but a simple tool that you can get from Old Blood Noise Endeavors. All it does is change signal going from one output to another possible output. There's no secret. No mystery. It's handy if you switch instruments in the middle of a set.
One second your guitar is patched in to your board, the next, with a stomp of the switch, your keyboard is patched in. You see? It's easy. Or maybe you need both your guitar and keys at the same time? We're telling you so that there is NO mystery, with the AB/Y you can do that and all in a tough little box that is pedalboard/touring ready.
Main Features:
Passive operation
Foot-switchable A&B or A/B
Status LEDs
Tough metal housing
Made in the USA
Powered by 9V DC PSU (only required for Status LEDs)
(centre -, 2.1mm, ~30mA current draw)
Additional information
| | |
| --- | --- |
| Weight | 0,26 kg |
| Dimensions | 14,1 × 8,4 × 5,5 cm |
Related Videos and Articles