Source Audio ATLAS Compressor
Advanced Stereo Compressor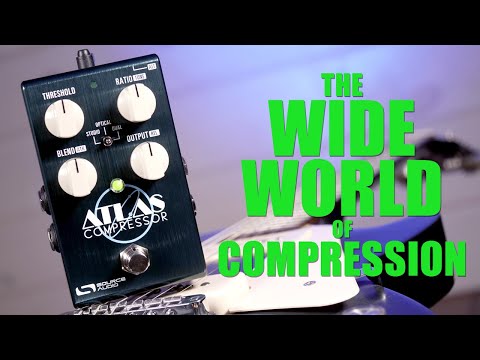 Source Audio ATLAS Compressor
Advanced Stereo Compressor
The ATLAS Compressor offers a comprehensive collection of compression circuits that perfectly capture the tone and feel of the industry's most sought-after compressors. Straight out of the box, ATLAS delivers six different styles of compression, based on classic stompbox compressors as well as high-end rack units like the snappy 1176 compressor and the smooth and gentle LA2A optical compressor. ATLAS also features advanced dual-band compression, which provides an independent set of controls for both the high and low frequencies. Each compression engine has onboard controls for Threshold, Ratio, Attack, Release, Output, Tone, and Blend, allowing for fine-tuned control over the compact One Series hardware.
Main Features:
Stereo Compressor effects pedal
Developed in collaboration with SHOE Pedals
6 onboard types of compression in 2 banks

STUDIO SNAP – hard knee VCA style Compressor
OPTICAL RACK – based on the LA2A optical studio rack compressor – for gentler and more relaxed compression
DUAL BAND: modern digital processing dual-band compressor with 333hz crossover frequency
STUDIO 76: based on the famous 1176 studio rack mount FET compressor – for very fast attack times
CUBIC ZIRCONIA – based on less clean optical boutique pedal compression
DUAL JANGLE: modern digital processing dual-band compression enhancing harmonics above 2 kHz without adding harshness to pick attack

128 presets accessible via MIDI
Bass Optimization Mode for converting the all onboard presets for use with bass guitar
Second layer knob function accessible via Alt-Switch
Deep customization features accessible via Source Audio Neuro App and Desktop Editor
Stereo Inputs and outputs – for multiple advanced routing options
Mini USB Port for PC connectivity (Windows and Mac compatible) and remote control
3.5 mm control port – for connecting compatible Source Audio control devices
Selectable Relay True or Buffered Bypass Switching
Included 3.5 mm to 6.3 mm TRS cable to connect to mobile device
Powered by (included) 9V DC power supply

(2.1 mm plug, center -, 165 mA current draw)
The ATLAS is packed with so many different types of compression that it could serve as a tour guide through the history of compressor equipment.  First stop: classic stompbox squashers such as the legendary the Dan Armstrong Orange Squeezer and the excellent (but discontinued) Diamond Compressor.  Next stop: universal and ubiquitous studio rack gear like the smooth and gentle LA2A optical compressor and the ultra-responsive 1176 FET compressor.  Finally, we're taking you to all-out nerd territory with Peak, RMS, VCA, and Dual compression, and an onboard Expander circuit… the ATLAS has it all and does it well.
Onboard Compression Types:
OPTICAL RACK: The Optical Rack compressor engine is based on the legendary LA2A studio opto compressors from the early 60s. Optical compression controls its output level with light. Increasing the incoming audio level in the original units caused an electro luminescent panel to shine brighter. A photo resistor monitors that light panel and decreased the audio output level, as the panel got brighter. The result is a very smooth and gentle attack that imparts a full-bodied and natural sound on guitar, bass, or vocal. This compressor sounds great with clean strummed or arpeggiated guitar lines as well as acoustic guitars.
STUDIO 76: The Studio 76 compressor is based on the 1176 studio rack compressors of the late 60s and early 70s. This solid state FET compressor is known for its full body and super-fast attack. All of the attack times in 1176 compressors clock in at less than a millisecond. Studio 76 is a great compressor for fast and aggressive country pickin' (think Johnny Hiland), slap bass, slide guitar and much more.
CUBIC ZIRCONIA: The Cubic Zirconia was inspired by opto compressors that use an LED in place of the LA2A's electro luminescent panel. This technology is usually what you find inside effects pedals. Using an LED as an optical compressor's light source creates faster attack and release times, which generate artifacts that tend to make the compression sound a bit dirtier. This is a great sound for playing tight and funky riffs on the guitar.
STUDIO SNAP: A very aggressive and modern sounding compressor. It's based on hard-knee, VCA feed forward type compressor. It uses two compressors in parallel to handle both RMS level controls ("Root Mean Square" compression means that the compressor will react according to the "average loudness") AND the peaks. The combination of these two compression approaches gives STUDIO SNAP its character.
DUAL BAND: The ATLAS has two independent compressors that can be routed in a number of different ways. They can run in Series Mode (one running into another). They can also run in Parallel Mode and be mixed together with a Crossfade control. The Dual Band compressor runs in Band Split Mode, which is a version of parallel routing where one compressor controls only the higher frequencies (everything above 333Hz) and the other controls the lower frequencies (everything below 333Hz). With the Dual Band Compressor the high frequencies release faster than the lower frequencies, so as you sustain a chord the low frequencies remain compressed while the second compressor releases the high frequencies. The result is a beautiful blooming effect that accentuates high harmonics. This is a great compressor for slow ringing chords or lead lines with long sustained notes.
Bass Optimization Mode:
We have made it easy to transform the ATLAS into a bass guitar specific compression machine. With the push of a button, you can convert all six of ATLAS' onboard factory presets into low-end responsive compression engines, precisely optimized for the complexities of the bass guitar.  The dynamic range and attack characteristics are much different for bass than guitar.  Typically, to achieve a smooth compressed bass tone, the attack and release ranges for compressors such as the 1176 FET compressor and LED optical compressors need to be dialed-in accordingly. Likewise, in dual compression modes, the cutoff frequency that separates the lower band from the higher band needs adjustments to accommodate the specific frequency range of bass guitar. It is all part of our mission to make the ATLAS Compressor the most flexible and easy-to-use compression workstation on the planet.
On the surface, the ATLAS features a simple 4-knob interface and a choice of six amazing compressors. However, if you want to take things to take things a bit further, we urge that you connect the ATLAS to our Neuro Preset Editing & Browsing tools.
Plug in to Neuro and experience compressor editing as it's done in studios and DAW software, with real-time readouts of your signal's gain reduction. Fine tune your compression with features simply not found in other effects pedals, controls like Look Ahead compression, Soft Knee control, optional Auto Makeup Gain, Dual Compression signal routing, 8-Band Graphic Equalization, Parametric Equalization, flexible Knob Assignment, and Side Chain High and Low Pass Signal Detection controls.
And of course, the Neuro Editor is loaded with easy-to-download Factory Presets and an ever-growing library of Published User Presets created by the ATLAS Neuro Community.
Additional information
| | |
| --- | --- |
| Weight | 0,45 kg |
| Dimensions | 16,5 × 15,7 × 6,4 cm |
Related Videos and Articles