Source Audio LUNAR Phaser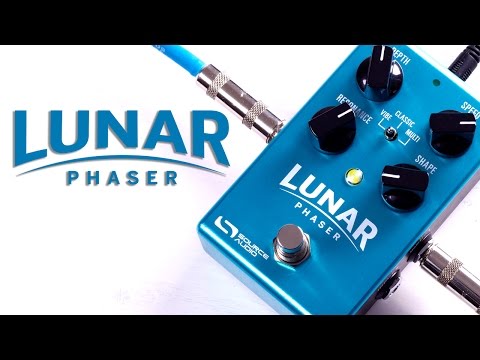 Source Audio LUNAR Phaser
Advanced Stereo Phaser
The LUNAR Phaser offers three styles of swirling stereo phase modulation. Choose from Vibe – a thumping Uni-Vibe effect, Classic – a resonant and creamy 4-stage phaser, and Multi – a highly animated, yet smooth and satisfying 8-stage phaser. Explore the sonic landscape even further by sweeping the Shape knob to gradually morph the LFO wave shape from a smooth, undulating sine wave to an aggressive and choppy square wave.
Main Features
Phaser effects pedal
3 flavors of Tremolo
Vibe: modeled after a Shin-Ei Univibe
Classic: based on the classic Phase 90 4-Stage phaser – for a chewy phaser sound perfect for rock and funk
Multi: 8-Stage Phaser – for a more animated phaser effect
2 different wave shapes that can be morphed through seamlessly
128 presets accessible via MIDI
Deep customization features accessible via Source Audio Neuro App and Desktop Editor
Stereo Inputs and outputs – for multiple advanced routing options
Mini USB Port for PC connectivity (Windows and Mac compatible) and remote control
3.5 mm control port – for connecting compatible Source Audio control devices
Selectable Relay True or Buffered Bypass Switching
Included 3.5 mm to 6.3 mm TRS cable to connect to mobile device
Powered by (included) 9V DC power supply

(2.1 mm plug, center -, 165 mA current draw)
The LUNAR includes three basic effect types, with more effects available in the Neuro mobile app.
Vibe: The Vibe Phaser effect was modeled after the Shin-Ei Univibe, the original rotating speaker simulator (i.e. the original phaser pedal). This effect contains 2 relatively wide frequency notches spaced farther from one another than a typical phaser.
Classic: The Classic Phaser effect is based on the same idea as the classic Phase 90, which uses 4 stages of phase shifters to create two relatively closely-spaced notches in the spectrum. This is the "chewy" phaser sound that has become nearly ubiquitous in rock and funk music, and feels right at home on guitars, basses, keyboards and electric pianos.
Multi: As a rule, every pair of phase shift stages creates one notch in the frequency response, so the Multi Phaser effect, which has 8 stages, creates 4 notches. This abundance of notches creates a more animated phaser effect when compared to the Classic and Vibe settings.
Additional Effect Types Additional effect types can be loaded into the LUNAR using the Neuro App on your mobile device (iOS and Android). The LUNAR Phaser is compatible with Source Audio's Chorus and Flanger effects, so it is possible to load chorus, phaser, and flanger effects on the LUNAR at the same time.
Out of the box, the LUNAR Phaser provides tremendous tonal range, but under the hood this pedal is a powerhouse of control and flexibility. Every stompbox in the One Series line is compatible with the Neuro Mobile App (a free download for iOS and Android). The App offers an extensive list of additional phaser, flanger, and chorus algorithms – each can be downloaded directly to your LUNAR Phaser. The Neuro App also features an extended set of adjustable parameters including the Frequency (the center point of the modulation), Output Level, embeddable Tremolo, Low Retain, a Parametric EQ, Advanced Signal Routing and more. Plus, every One Series pedal is fully MIDI compatible when coupled with the Neuro Hub (formerly Soundblox Hub), giving you the power to save up to 128 presets.
Job one in the development of the Source Audio One Series modulation pedals – the GEMINI Chorus, LUNAR Phaser, and MERCURY Flanger – was to create three great sounding, flexible, and easy-to-use pedals. Out of the box, that's exactly what they are – plug 'em in, select from the three onboard flanger, phaser, or chorus engines and make beautiful music… simple. But there is much more here than meets the eye (and ear) – the truly "Big Idea" behind our One Series modulation pedals was to give musicians a second, far deeper, set of options and editing tools with which to craft the perfect tone. The Neuro Mobile App is a free download for iOS and Android. The Neuro basically gives you access to the effects of all three pedals, so when you buy any one of the LUNAR Phaser, MERCURY Flanger or GEMINI Chorus, you're essentially buying all three. The Neuro Editors offer a huge collection of chorus, flanger, and phaser engines as well as an expanded set of editing parameters. After editing your preset, burn it directly to the pedal and access it without reconnecting the Neuro App.
Additional information
| | |
| --- | --- |
| Weight | 0,45 kg |
| Dimensions | 16,5 × 15,7 × 6,4 cm |
Related Videos and Articles