Source Audio MIDI Adapter
5-pin DIN to TRRS MIDI converter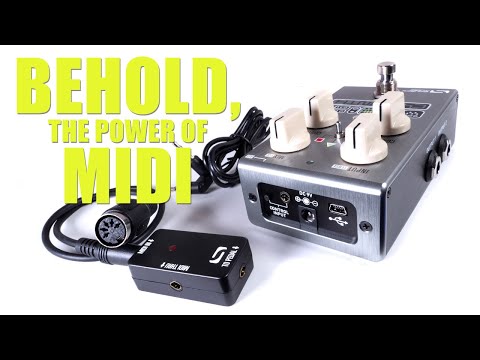 Source Audio MIDI Adapter
Compact MIDI 5-Pin DIN or TRS to TRRS Adapter
The Source Audio MIDI Adapter provides full MIDI functionality to all single-footswitch One Series pedals including the C4 Synth, Aftershock Bass Distortion, Atlas Compressor, and Spectrum Intelligent Filter.
The MIDI Adaptor is a compact, bus-powered, intelligent adapter compatible with any standard MIDI Controller with a 5-pin MIDI DIN output.
Use MIDI program change (PC) messages to switch presets and MIDI continuous controller (CC) messages to quickly change parameter settings or move parameters on-the-fly with an expression pedal. Use MIDI clock messages to set LFO modulation and sequencer rates.
Main Features:
MIDI 5-pin DIN or TRS to TRRS Adapter
Provides full MIDI Capabilities to all currentMIDI capable Source Audio pedals
5 mm MIDI TRS IN
5 mm TRRS MIDI OUT and THRU
Including 3.5 mm TRRS Daisy Chain/Sensor Cable for use with Source Audio One Series pedals
Including 5-pin MIDI to 3.5 mm TRS cable
Bus powered – no external power required
By default, all Source Audio pedals are set to MIDI Channel 1 and respond to MIDI program change (PC) messages for preset switching, but there is a world of MIDI control possibilities waiting for you in the Neuro Desktop Editor.
Inside Neuro you will find the tools to change MIDI channels, save pedal presets, assign MIDI continuous controller (CC) messages to specific parameters, and set up MIDI clock. Take control of your music with the full power of MIDI.
Related Videos and Articles