Source Audio ULTRAWAVE Distortion Lab
Advanced Stereo Multi-Band Distortion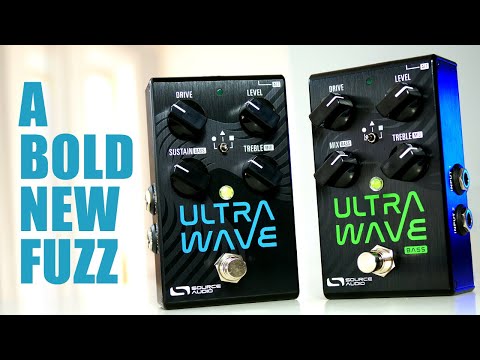 Source Audio ULTRAWAVE Distortion Lab
Advanced Stereo Multi-Band Distortion
The ULTRAWAVE Distortion Lab embarks on a pioneering journey into the advanced potential of overdrive and tremolo, exploring a brave new universe of sounds yet unheard. At the ULTRAWAVE's core is a dynamic and multi-dimensional approach known as multiband processing.
This process splits the frequency spectrum of a guitar, bass, or synthesizer into multiple, discrete frequency bands and equips each band with its own array of adjustable parameters. In the case of overdrive, the ULTRAWAVE splits the incoming signal and provides separate drive and output level controls for each individual band.
The result is a thick and rich distortion with loads of unique overtones and dynamic interplay. Split the signal into 1, 2, 3, 4, 8, or 10 frequency bands, and apply any of the band splitting options to an exciting collection of overdrive types, including Tube, Diode, Foldback (a method of distortion often heard in the world of synthesizers), Octave Up, Negative Flip Diode, and more. ​Plug in, turn up, and explore the wonders of multiband processing built on over a decade of refinement and experimentation.
Summing up all the sounds available in the ULTRAWAVE Distortion Lab is a fool's errand, but hopefully our official demo video will give you a sufficient window into The Power of the ULTRAWAVE!!!
Main Features:
Multi-Band Distortion effects pedal
44 different distortion types ranging from Distortion, Overdrive to Fuzz
Dual Channel Compressor/Expander
37 different band splitting options – including 2, 3, 4, 8 and 10 bands with different sub-sets and frequency points each
6 presets in 2 banks with another 122 presets accessible via MIDI
Second layer knob function accessible via Alt-Switch
Deep customization features accessible via Source Audio Neuro App and Desktop Editor
Stereo Inputs and outputs – for multiple advanced routing options
Mini USB Port for PC connectivity (Windows and Mac compatible) and remote control
3.5 mm control port – for connecting compatible Source Audio control devices
Selectable Relay True or Buffered Bypass Switching
Included 3.5 mm to 6.3 mm TRS cable to connect to mobile device
Powered by (included) 9V DC power supply

(2.1 mm plug, center -, 165 mA current draw)
At the core of the ULTRAWAVE is multiband separation, distortion, and EQ. In the 1970s music technologist Craig Anderton created a 4-band distortion tool.  It was noted for lessening intermodulation artifacts when playing complex chords, but the concept was left largely unexplored.
In 2007 Bob Chidlaw took the basics of multiband processing and added cutting-edge foldback distortion curves, which were relatively unknown at the time.
When implemented on a powerful Analog Devices DSP chip, the Source Audio Multiwave Distortion pedal was born. The ULTRAWAVE starts where the Multiwave left off and leverages more than a decade of Source Audio know-how and dramatic increases in DSP power.  The ULTRAWAVE is the ultimate expression of multiband processing in a pedal.
The ULTRAWAVE also has an incredible companion collection of innovative sound processing blocks to take sound creation into vast new directions. These are found in the Neuro Desktop Editor (free editing software for Mac or Windows) or Neuro Mobile App (free for iOS and Android). All presets created in the Neuro editors can be loaded directly to the pedal, saved to a personal, cloud-based preset library, and published to the Neuro Community to be easily accessed by other ULTRAWAVE owners.
The dual channel compressor block includes studio level controls that can be placed before or after the drive circuits. The Multiband Tremolo block provides individual control of each band's tremolo depth, rate, and start time as well as its LFO wave shape. Changing the LFO wave shape and varying the tremolo start times of each frequency band creates fantastically propulsive sounds reminiscent of sequencer or arpeggiator effects. The LFO's Ring Mod option creates waves of retro/futuristic industrialism.
The Morph feature explores the marvelous potential of sound morphing, which allows musicians to smoothly transition from one super-charged tone to another with an external expression pedal, LFO, or envelope follower. The ULTRAWAVE also has advanced stereo features that can send entirely different drive effects to each of the outputs for a wide stereo field, place the effect in two places in a signal chain, or generate mind-spinning, ping-pong tremolo effects.
Plug in, turn up, and explore the wonders of multiband processing built on over a decade of refinement and experimentation.
Additional information
| | |
| --- | --- |
| Weight | 0,45 kg |
| Dimensions | 16,5 × 15,7 × 6,4 cm |
Related Videos and Articles